Luton Airport fatal crash woman 'in blind spot'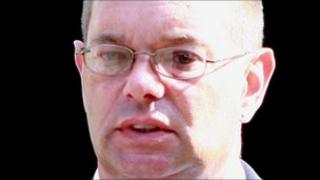 A lorry driver accused of knocking down and killing a pensioner on a crossing outside Luton Airport has told a jury she must have been in his blind spot.
Mary Whiting, 78, from Norwich, had just returned from a family holiday on 16 May 2009.
Rossano Casagrande, 50, from Fulbridge Road in Peterborough, Cambridgeshire, denies causing her death by careless driving.
Mrs Whiting was pronounced dead at the scene, Luton Crown Court heard.
Her great-granddaughter saw the incident.
'Crawling pace'
Mr Casagrande said he was delivering milk to the airport for his company Robert Wiseman Dairies in Northampton, a journey he had completed about 20 times previously.
"I drove at a crawling pace towards the crossing and stopped 2.5ft to 3ft in front of the crossing," he said.
"I waited there and when there was a clearance I checked my six mirrors and engaged my engine.
"Because of the blind spot I am extra cautious with the mirrors."
He said the crossing was clear so he pulled ahead "at about a mile an hour".
"I could not hear anyone shouting at me because of the engine noise and the planes taking off.
"I became aware of a bump at the back and a lurch of the vehicle and stopped."
His barrister, Nicholas Cotter, asked him: "Do you think you did anything wrong in the way you drove your truck?"
Casagrande replied: "Not at all. I did the same as I would do every day."
He said he felt devastated, had left his job and had health problems since the incident.
He said he agreed with evidence given earlier by Pc Steven Andrews that, in his opinion, Mrs Whiting was in a blind spot when the lorry began to pull away.
The trial continues.