Hundreds of jobs to go at Milton Keynes Council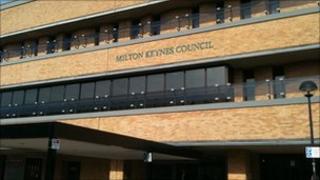 Milton Keynes Council has announced plans to cut more than 600 jobs to help save £48m over the next three years.
The proposals, which go to the council's cabinet committee next week, are necessary to meet government cuts in funding, says the council.
The council added that it hoped to minimise the need for compulsory redundancies as far as possible, and to redeploy staff where possible.
The council at present employs 2,500 staff.
'Protect the vulnerable'
Sam Crooks, the council's cabinet member responsible for finance, said: "These are challenging times as the council is faced with a substantial reduction in funding from central government as well as delivering existing efficiency targets and seeking to protect essential services for the community.
"We will be announcing in December what functions the council should reduce or stop, and any emerging proposals will require consultation with service users and staff.
"We are committed to minimising the impact on the most vulnerable groups and individuals."
The council said over the next three years the council would make the savings by improving value for money across its services and finding more efficient ways of working, including a reduction in staff numbers, by more than 200 per year.
The council has made £10.3m of savings in the current financial year.
In January, Milton Keynes residents will be asked to have their say on the council's priorities and budget for 2011/12, as part of the council's annual budget consultation before a final decision is taken in February.