Teenagers in Milton Keynes 'speed date' to find work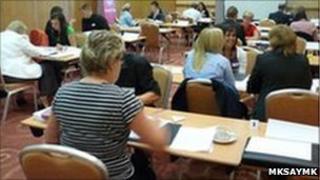 An event inspired by speed dating is aiming to match teenagers with prospective employers.
During the speed matching in Milton Keynes, teenagers have a series of three-minute interviews with different employers and training providers.
The young people's advice service, Connexions:MK runs the free event for 13 to 19-years-old.
Connexions aims to reduce the number of young people who are not in education, employment or training.
The previous speed matching events have led to official interviews and subsequent job offers for teenagers.
Peter Wong, Connexions:MK Manager, said: "It gives local companies the chance to meet prospective employees without the vast amount of CV sifting or interviewing that the recruitment process usually requires.
"Young people can also make use of the event to see if they are interested in a company."