Haystack fire burns for 15 hours in Bedfordshire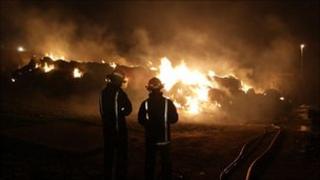 More than 30 firefighters worked through the night to tackle a haystack fire in Bedfordshire.
Crews are still at the scene at Kings Farm in Maulden, where a fire began in 200 bales of hay at 2015 BST on Wednesday.
They worked to prevent the fire spreading to a barn.
By 1100 BST one crew was on site and was due to check whether the fire had completely extinguished, the fire service said.
An investigation in to the cause of the fire is expected to take place later.