High Wycombe crews' pleas to not block roads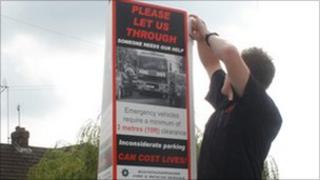 Firefighters in Buckinghamshire have appealed to drivers not to park their cars in roads where the route could could be blocked for fire engines.
Signs have been placed on lamppost in Tysak Road in Terriers, High Wycombe, a street which crews have identified as having a serious problem.
Patrols will place notes on vehicles which continue to block the road.
"It can mean the difference between the emergency services saving a life or not," a spokesman said.
Motorists need to leave 10ft (3m) clear for road users when they park, the fire service spokesman said.
White Watch manager Eamonn Eddowes said: "We are urging residents to think about their parking as they could be putting the lives of their families, friends and neighbours at risk.
"Cars may be able to pass down streets which have restricted access due to double parking or incorrect parking, but fire engines and ambulances can't."