Luton killer's jail term cut on appeal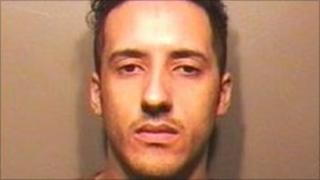 A man who stabbed his ex-girlfriend more than 40 times in a "brutal and frenzied attack" has had his minimum jail term reduced on appeal.
Karl Oakley, 24, of Luton, was given life and a minimum tariff of 15 years in December 2009 for the manslaughter of 18-year-old student Taylor Burrows.
He admitted the charge on the grounds of diminished responsibility.
His lawyers argued at the Court of Appeal that the sentence was too harsh. It was cut to a minimum of 12 years.
Oakley was originally charged with the murder of Miss Burrows, who he killed at the home of a friend in Luton in February 2009.
'Increasingly aggressive'
The Court of Appeal heard they began a relationship in the spring of 2008 and he was banned from the family home when Miss Burrows started missing classes at Luton Sixth Form College.
He became increasingly aggressive and, less than a week before her death, he held a knife to her throat and threatened to kill her.
On 21 February 2009, Oakley came to the Sainsbury's store where Miss Burrows worked, threatened her and was told to leave by security guards.
She went to the house of her friend and neighbour to stay the night but Oakley forced his way into the house.
Once inside he went into the kitchen and grabbed a knife. When Miss Burrows came downstairs he jumped on her, stabbing her in the head, arms and body.
She died shortly after she was rushed to hospital.
Oakley fled the scene, but was later arrested.
The Court of Appeal heard how, while not suffering from schizophrenia or depression, Oakley had a personality disorder caused by a troubled upbringing.
He had difficulty dealing with the breakdown of relationships and had previous convictions for harassing and assaulting past girlfriends.
Lord Justice Richards, sitting with Mr Justice Griffith Williams and Judge Peter Rook QC, said that the judge was right to impose a life sentence for the "brutal and frenzied attack", but should have reduced the minimum term by more than he did.