Lecturer denies raping ex-lover after Christmas party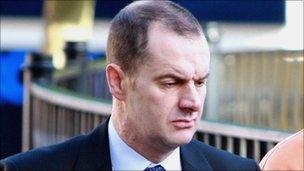 A 47-year-old college lecturer accused of rape played sex games with his alleged victim at a centre where they were instructors, a court heard.
Angus Murr, of Bedford, said the pair played the games when no-one was there.
At Luton Crown Court he denied raping the woman, aged 22, last December after a staff Christmas party.
The court heard the woman was drunk and passed out before being put to bed on a bean bag with Mr Murr nearby, and woke up wearing just a T-shirt.
Mr Murr, a lecturer at Bedford College, was supposed to sleep on a sofa, jurors were told.
When she was awake the woman came to realise that father-of-three Mr Murr had had intercourse with her without her consent while she was sleeping and drunk, jurors were told.
The court heard she agreed she had had a previous sexual relationship with former soldier Mr Murr.
Mr Murr had told the jury she had been fully awake during sex with him.
He said: "She was awake because she had her eyes open and she was looking at me when we were kissing."
Mr Murr, of Duchess Road, Bedford, denies raping the woman on Wednesday 2 December last year at the bungalow home of a work colleague.
The jury heard she was sick several times during the night and had been falling in and out of sleep.
She told the court: "How can I consent when I was paralytic drunk?"
Mr Murr was arrested and interviewed by police on 19 January this year.
Related Internet Links
The BBC is not responsible for the content of external sites.