Binman jailed for life for Hertfordshire murder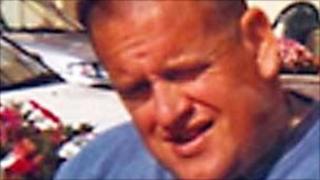 A binman has been jailed for life for luring a work colleague to a Hertfordshire country park and then battering him to death.
Gary Bennett, 46, from South Oxhey, near Watford, was found in Aldenham Country Park, Elstree in February.
He had been hit on the back of the head at least 13 times by 38-year-old Julian Felisi, St Albans Crown Court heard.
Felisi, from Whippendell Road, Watford, had denied murder but was ordered to serve at least 22 years.
The court was told that Mr Bennett's gold chain had also been used as a ligature to strangle him.
His body was found near a disused kiosk in Aldenham Country Park by pupils on their way to school.
The jury heard Mr Bennett would buy tobacco from Felisi, who had recently returned from Belgium or France with supplies.
Felisi told police following his arrest that he had no idea how Mr Bennett was killed and that he had never given him a lift in his car.
But CCTV evidence was later produced and Felisi's solicitors filed a defence case statement with the court.
In it he said he had picked Mr Bennett up from his home in the morning, but two Irishmen later got into the car and told him to go to Aldenham Country Park.
He said he was not present when a tobacco deal between the three men took place and all he heard was shouting.
Prosecutor Michael Speak told the court: "He said these Irishmen had murdered Mr Bennett. He was forced to take them away from the murder scene and then drop them off to catch a bus to London.
"Are these the first murderers who flee the scene by standing at a bus stop and waiting for a bus?"
Work colleagues described Mr Bennett as a "a gentle giant".
After the hearing his 81-year-old mother Alice Bennett who shared a home with her son, said: "It has been very difficult since Gary's death.
"He was a very good son. He would always take me on holidays or day trips and would help anybody.
"I am very pleased with the jury's verdict, but no sentence will bring Gary back. It has been very difficult since he was killed."
Det Insp Tim Redfearn said: "For reasons known only to himself, Julian Felisi enticed Gary to an isolated park on that morning in February and brutally murdered him.
"During our investigation into Gary's murder, so many people have spoken of him as being a gentle, well regarded and unassuming person who would never dream of hurting anyone.
"These testimonies of Gary's character make this terrible crime even more difficult to comprehend."