St Albans binmen to wear snow shoes this winter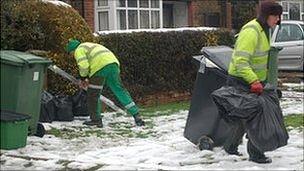 Binmen in a Hertfordshire city are going to be issued with snow shoes to help them to work in icy conditions.
In a review of services, St Albans City and District Council's Cabinet will supply slip-on snow shoes to fit over safety boots.
During heavy snowfalls last winter bin collections were cancelled, leaving city rubbish uncollected for a month.
It's hoped the shoes will allow binmen to walk safely on snow, preventing disruption to services in bad weather.
Melvyn Teare, from St Albans District Council, said: "The shoes are rubber and go over a normal shoe - the idea is that it allows better grip on the snow so binmen can get up the roads and collect as much as possible in bad weather."
He added: "They may be requested to work overtimes where necessary to do this. We have just instigated the purchase of 200 tonnes of salt in bag form which we are distributing around the parishes.
"We have a sufficient amount to last 30 days and if needed we will purchase more."
In a bid to overcome disruption to services caused by the weather, the council is introducing a "take all" policy after three days of snow-affected collections.
"This will give residents the option of having both of their wheeled bins collected on the next scheduled collection day, rather than having to wait."
The council is also considering purchasing a snow plough and grit spreader to help contractors' clear footways and will supply salt to parishes who request it, they said.
Related Internet Links
The BBC is not responsible for the content of external sites.