'Lollipop ladies at risk' in central Bedfordshire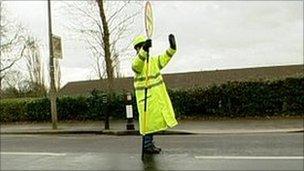 Lollipop ladies in parts of Bedfordshire could be cut under proposals by the council.
Bedfordshire Central Council said it had to be "rigorous in driving out every penny of unnecessary spending" after the government's Spending Review.
The council, which employs 36 school crossing patrol officers, estimated the proposal would save £95,000.
The cost cutting proposal is one of many to be discussed by the council's executive on 2 November.
The council said: "This is a discretionary service area. Those schools benefiting from this service will be asked to take on the responsibility for them from April 1 2011."
Related Internet Links
The BBC is not responsible for the content of external sites.