Police forces to merge more departments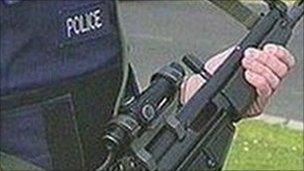 Two police forces have agreed to merge more departments in a bid to save money in the future.
Bedfordshire and Hertfordshire already have a joint dog unit, firearms support unit and major crime unit.
They have now agreed a joint information and communication technology (ICT) department and police pensions administration function.
The police authorities said the move would save the two forces a total of £455,000 each year.
Peter Conniff, chair of Bedfordshire police authority, said: "In light of the recent Comprehensive Spending Review and the need for both forces to address significant budget shortfalls, the financial efficiencies that will be generated by these further joint ventures are to be welcomed.
His Hertfordshire counterpart Stuart Nagler said: "Collaboration on key areas of administration and infrastructure, such as ICT and pensions administration, will bring huge benefits over and above the financial savings which are imperative at this time.
"Joint information and communication systems will improve the effectiveness of both forces, particularly for officers and staff on the front line."
Related Internet Links
The BBC is not responsible for the content of external sites.