Fiance of Dr Karen Woo returns to Afghanistan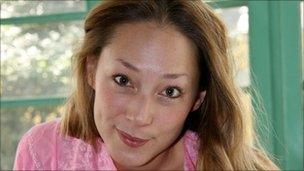 The Northern Irish fiance of a woman murdered in Afghanistan in August has returned to work in the war-torn country.
Dr Karen Woo was shot dead along with nine colleagues on an aid mission in Badakhshan province.
Mark "Paddy" Smith from Dundonald works for a security firm in Afghanistan. He and Dr Woo were to have been married just two weeks after she was murdered.
He said his fiancee would have wanted him to return.
"She understood why I was out here and I understood why she enjoyed the environment but personally it has been tough," said Mr Smith.
"It's one of those things that I don't know if I can sustain this for the long term but I'll give it a try and see if I can stay out here for a little while longer.
"I've been here for seven years, in a strange way, it's like coming home."
He said he parents would like him to "find another job" but said they understood that I'm "not a nine to five kind of guy".
"Karen wasn't a nine to five type person either. Being out here is part of who we are," he said.
"This place attracts some very interesting people. It's a very addictive environment."
Mr Smith said he had first met Dr Woo last November but they did not meet up again until March this year.
"We just saw each other every night and then eventually it became a relationship," he said.
"Once it became a relationship, we effectively lived in each other's pockets."
Dr Woo, was working with a Christian charity, providing healthcare in remote villages.
Mr Smith had been on trip back to the UK and returned to Afghanistan on Wednesday morning. He received a text from Dr Woo who had been texting him every morning and evening to let him know she was safe.
"I didn't hear from her Thursday morning. It was Thursday evening that I started to get a little bit concerned.
On Friday afternoon, a friend in the British Embassy called him and said police in Badakhshan, a province in north-east Afghanistan were reporting that a number of people, including some westerners had been killed.
"I knew there were no other western groups in that area. I called her mum," he said.
"I'd only met her mum once before and let her mum know that I didn't think there was much hope.
"About half an hour later I got a call to tell me that yes, it was that group and that there were no survivors."
Mr Smith described his fiancee as an "incredible woman".
"I've never met anybody like her, never, not in all my years," he said.
"She was just this incredibly driven, gregarious, wonderful human being who just had to do what she was doing.
"We've started the Karen Woo foundation, the intention of which is to grant small charities out here who are working in health care, to give them some money to complete their work.
Mr Smith said Dr Woo he was working to try and get the documentary she was working on finished.
"Her main purpose out here was to try and affect people back home and show them the stories that aren't being told.
"What we're trying to do is make sure her work is carried out.
"That's quite difficult when you lack the sort of person that Karen was, when she's not around anymore."
Related Internet Links
The BBC is not responsible for the content of external sites.