Inquest into Hertfordshire fatal hit-and-run crash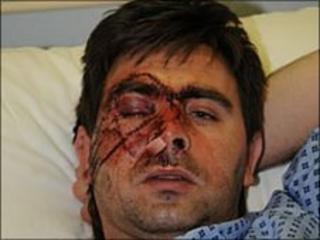 A driver who hit a pedestrian who later died fled hospital before he could be questioned by police and may have left the UK, an inquest heard.
Ricky Burlton, 20, from Enfield, died in the crash in June on the A10 exit slip road at Hoddesdon, Hertfordshire.
The inquest at Hatfield heard that the driver, Georgios Tsoulos of Hertford, had serious facial injuries and was in hospital when police found him.
After an officer left his bedside he discharged himself and went on the run.
Hertfordshire Police do not know whether he is still in the UK or has gone abroad.
Mr Tsoulos passed himself off as a 30-year-old Greek, but police established his identity documents were bogus and now believe him to have been an Albanian who had been living in the UK illegally.
The inquest heard Mr Burlton had been walking along the side of the road when he was hit by a white Rover in the early hours of the 4 June.
He died almost instantly but he was then struck by three vehicles, and by the time emergency crews reached the scene, the driver had fled.
Police traced Mr Tsoulos to hospital after finding an identity card in the Rover, but the decision was taken to talk to him formally after he had been treated.
The coroner was told that after the officer left his bedside, Mr Tsoulos discharged himself from Chase Farm Hospital in Enfield and never attended an appointment at Moorfields Hospital in London for an eye injury.
When officers went to his home in Woodlands Road, Hertford, he had disappeared.
The coroner recorded a narrative verdict that Mr Burlton had been walking from Hertford to Cheshunt when he was struck by the Rover 200 which is thought to have been travelling at about 60mph.