Sex acts prison officer jailed for two years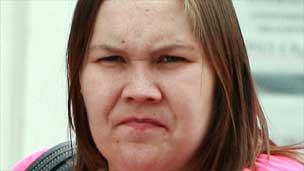 A prison officer has been jailed for two years after admitting having a sexual relationship with an inmate.
Donna Stanton, 27, of Ashmead Road, Bedford, had denied doing acts intended to pervert the course of public justice but later changed her plea.
Luton Crown Court heard Stanton began a sexual relationship with Eric Fitzgerald at Bedford jail.
Stanton, who has had a baby since the earlier hearing in June, pleaded guilty to the charges.
The court heard Stanton began working at Bedford Prison in October 2004.
In January 2005, Fitzgerald was jailed at the Old Bailey for seven years for attempted grievous bodily harm with intent and arrived at Bedford Prison in May 2008 as part of the process of preparing him for his eventual release.
The court heard she started bringing food, cigarettes, tobacco and newspapers into the prison for him.
As he neared the end of a his jail term, Stanton visited him in his cell nearly every day when sexual acts took place, the court heard.
When the relationship deteriorated she made a statement to police saying Fitzgerald was blackmailing her and he was arrested.
Judge John Bevan QC said Stanton had become "infatuated" with Fitzgerald and "lavished presents on him".
He told her: "You were given a position of trust within the prison service and have brought shame on yourself by falling for a long-term prisoner serving a sentence for considerable violence.
"When the relationship inevitably soured on his release you falsely accused him of blackmail."
Two other charges of misconduct in public office have been left on file.
David Matthew, defending, said: "She was in a vulnerable state at the time. She had witnessed a death in the prison which had an effect on her mental health.
"She embarked on the relationship but both of them handled that affair badly. She lavished presents and cash on him in a mistaken attempt to keep his affection."
Related Internet Links
The BBC is not responsible for the content of external sites.