Luton fireman on crash charge 'thought road was clear'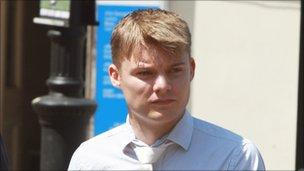 A fireman involved in a fatal crash while on an emergency call has told a jury he believed the road ahead was clear when he crossed a red light.
Leteef Kadri Sheikh, 52, of Marlow Avenue, Luton, died a month after his car was in collision with the fire engine, Luton Crown Court heard.
Robert Hulatt, 28, of Bromham near Bedford, denies causing death by dangerous driving on 11 September.
"I am absolutely devastated," he told the court.
"I cannot imagine what the family are going through.
"I think about it first thing in the morning, all through the day and the last thing at night. I don't think I will ever lose that for the rest of my life."
Mr Hulatt was at the end of a 15-hour shift and on his way to a house fire, where it was thought a man was trapped, when he collided with a car in Chapel Street, Luton.
In the car was Mr Sheikh, his wife and their three daughters on the morning school run, said prosecutor Beverly Cripps.
All were injured and Mr Sheikh died in October.
The prosecution alleges Mr Hulatt, of Browning Close, should have approached the junction with Windsor Street more slowly, as there is a blind spot which he would have been aware of.
Mr Hulatt said the route was familiar and the fire engine had its sirens blaring and lights flashing.
"It was rush hour and I remember weaving in and out of cars. I was going at a safe speed and was comfortable with it," he said.
"I knew I was in control of my vehicle."
He said he looked left and right and thought his route was clear.
"All of a sudden there is a silver flash and a bang.
"I did not know what hit us, I thought it may be a street lamp falling down but then realised it may be a car and stopped."
Related Internet Links
The BBC is not responsible for the content of external sites.