Mansion footman's life of service in Bedfordshire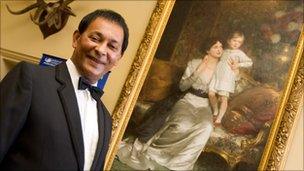 A footman who is the final member of staff to have worked in service at a Bedfordshire mansion is to retire at the end of 2010.
Cyril Thomas, then aged 18, answered an advert at his home on the island of St Helena in the south Atlantic to join The Mansion House, near Biggleswade.
He waited on the lady of the house, Dorothy Shuttleworth, and learned his skills from "old retainers", he said.
Arriving at the house 47 years ago was a "daunting experience", he added.
"It took me some time to get used to my new life."
The staff who showed him the ropes were from the old guard of house servants and would not look out of place in BBC1's Upstairs, Downstairs, he said.
"I always had the greatest respect for Mrs Shuttleworth who showed me real kindness and gave me every opportunity to do well," he said.
"She encouraged me to drive, providing me with driving lessons, and had every confidence in my driving abilities.
"Visitors to The Mansion house were often shocked when the young footman offered to drive their magnificent cars."
Mr Thomas, who is now a caretaker and gives guided tours of the Jacobean-style Victorian building, will retire on 31 December.
"Looking back on my life here, I feel fortunate to have worked for Mrs Shuttleworth, who really was the lady of the house.
"I have lived through many changes at The Mansion House but the grandeur and heart of the house remains to this day."
Mrs Shuttleworth's son, Richard, inherited the estate on his 23rd birthday but was killed in a flying accident in 1940, aged 31.
Four years later, his mother placed the estate into the Richard Ormonde Memorial Trust for agricultural and aviation education, and Shuttleworth College was founded next to the main house.
She was the trust's chairman until her death aged 89 in 1968.
Mr Thomas is married with two children and two grandchildren - a family that he would not be permitted to have had he worked in service all his life.
Related Internet Links
The BBC is not responsible for the content of external sites.