Milton Keynes Council reveals £56m cuts over four years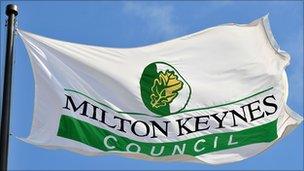 A council in Buckinghamshire has revealed 800 jobs out of 2,500 could go over the next four years after it announced £56m cuts to its budget.
Milton Keynes Council said it had seen a £9.9m cut in its central government grant for 2011/12, equating to 10.1%.
The council has already told 250 of its employees that their jobs are at imminent risk.
A report to the cabinet said the grant cut had hit childrens' services hard with a loss of £4.4m.
A council spokesperson said the cuts, which amount to 200 jobs a year, would be felt across the board at the unitary authority which runs schools, roads, social services, parks and playgrounds, public health and other services.
It means a third of the council's staff will be made redundant.
The council's leader Cec Tallack said: "Sadly we have already started giving people notice of redundancy, and we are trying to make this as painless as possible.
"We are committed to protecting frontline services as far as possible and minimising the impact on the most vulnerable groups and individuals."
The council has already introduced £10.3m of savings in the current financial year.
The plans to save more money will now go out to public consultation and a final decision on the 2011/12 budget will be made at the end of February.
Related Internet Links
The BBC is not responsible for the content of external sites.