BBC Introducing... behind the scenes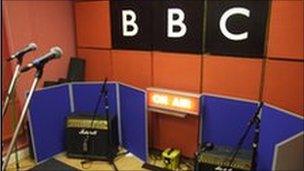 Welcome to the BBC Introducing... live room here at our radio studios in Luton.
Every week a different band performs three tracks of music which are professionally recorded by our BBC engineers.
The tracks go straight on-air on BBC Introducing... in Beds, Herts & Bucks between 1900 and 2000 GMT every Friday night on BBC Three Counties Radio.
We'll also upload your music online.
The live room can easily hold most bands and has a house drum kit and guitar amplifiers to make it easier for bands to get in and out of the studios.
The drum kit is a five piece Mapex Pro M series with 10" and 12" mounted toms, a 14" floor tom, a 22" bass drum and a 14" snare drum.e drum kit comes with Paiste cymbals (crash, ride and hi hats) but drummers are very welcome to bring their own cymbals, snare drum and breakables.
The two guitar amps are a Marshall JCM 200 - DSL 401 and a Marshall Valvestate 2000 - AVT 150. The DSL 4-1 is a 40 watt, 2 channel 1x12" combo and the AVT 150 is a 150 watt, 4 channel 1x12" combo with DFX.
The live room is connected to the control room by two digital multicores, each providing 16 send and 8 return channels down a single CAT5 cable. The control room houses a Yamaha LS9 32 channel digital mixing desk with a 24 channel digital Alesis ADAT HD24 hard disk recorder.