Charity wants homes for England rugby squad puppies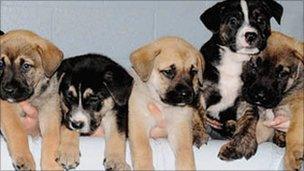 An animal charity in Hertfordshire is looking for homes for ten orphaned pups named after England rugby union stars.
The 10 six-week-old Boxer-cross dogs were taken to a Blue Cross centre in Kimpton after their mother died when she was knocked down by a car.
They have been named Johnno, Tindall, Ashton, Flood, Wilko, Foden, Easter, Sheridan, Hartley and Haskell.
"It seemed perfect to name the little bruisers after rugby players," said Emma Pannell, deputy manager.
"Like many rugby players, these puppies are going to be big and boisterous so they'd like a home where they can run around."
A charity spokeswoman said anyone interested in adopting a pup should contact them on 0300 7909903
Related Internet Links
The BBC is not responsible for the content of external sites.