Hitchin stab victim 'threatened to kill' murder accused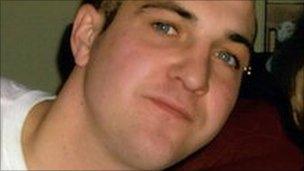 A man on trial for murder in Hertfordshire has told a jury his alleged victim had terrified him with threats to kill.
Sean Flattery, 21, of Seebohm Close, Hitchin, denies murdering his near neighbour Michael Chalkley, 25.
He died in April last year after a knife attack near his home in Bingen Road in the town.
Giving evidence at Luton Crown Court, Mr Flattery said Mr Chalkley had grabbed him in a headlock.
The jury has heard the men had both been drinking and had previous antagonism between them.
Mr Chalkley and a friend were walking to a flat when an argument and a fight developed with Mr Flattery and the other three defendants, the jury has been told.
The prosecution has said that Mr Flattery produced a knife and stabbed Mr Chalkley several times.
A post-mortem examination discovered five stab wounds from a kitchen knife with a 5in (13cm) blade, the court heard.
Mr Flattery said Mr Chalkley, known as Buzzer, grabbed him in a headlock, dragged him across Mattock Road and "said he was going to take me down".
"I was terrified. Buzzer was shouting things. He ran towards me. I was backing off.
"He said 'I am going to kill you'.
"I was still backing off. I got my knife out and he said 'what are you going to do, are you going to stab me? I was telling him 'please leave me alone'."
Mr Flattery said he swung his arms at Buzzer, who fell to the ground.
He also denies violent disorder, but the jury has been told he has admitted possessing a knife.
On Tuesday, his co-defendant Kyle Holloway, 23, of Wilshere Crescent, Hitchin was cleared of murder on the direction of Judge John Bevan QC, who said there was insufficient evidence against him.
He remains on trial for violent disorder, along with Raymond Small, 21, of Pix Road, Letchworth and Richmond Nkhoma, also 21, of Roxley Court, Willian.
Related Internet Links
The BBC is not responsible for the content of external sites.