Luton council to axe 256 jobs in £22m cuts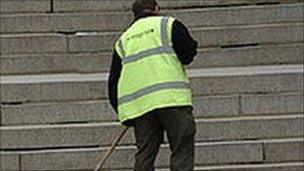 A council in Bedfordshire will cut 256 jobs after savings of £22m were approved for the next financial year.
Street services staff, food safety inspections and pavement repairs will be affected by the plans by Luton Borough Council.
Leader of the Labour-controlled authority, Robin Harris, said it had protected frontline services.
The Lib Dems said cuts had gone too far as the council got more than neighbouring councils from government.
"Job losses are not as high as first predicted. The council has been working hard since an initial figure was released to minimise the impact on employees," councillor Harris said.
A voluntary redundancy scheme had been put in place and 50 members of staff had taken up this option but there would be 256 compulsory redundancies.
"A support programme enables all staff facing compulsory redundancy to have access to advice in finding another job, pension and financial advice and practice in attending interviews," Mr Harris said.
The total workforce, excluding schools, is 3,240 and its 2010/11 budget is £167m.
Lib Dem councillor Martin Pantling said the Labour administration had gone too far.
"I think there have been a disappointing number of cuts set by the Labour executive.
"There really was no need to make quite so many cuts not least because we receive much more money per head of population than some neighbouring councils.
"We receive more than twice as much as Central Bedfordshire and yet here cuts will affect street services staff, food inspections and pavement repairs.
"This really isn't the way to be going."
Conservative councillors were expected to comment later.
Related Internet Links
The BBC is not responsible for the content of external sites.