Community make plans to save Wendover library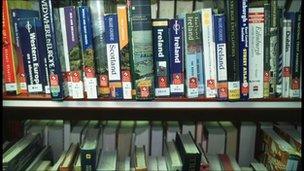 A group in Wendover is planning to take over the local library to save it from closure.
The action began after Buckinghamshire County Council held a meeting in the town to inform residents it would be closing 14 libraries unless they became community libraries.
The council said it would offer help groups to do this.
Alan Myers, vice-chairman of Wendover Parish Council and chairman of the library group said: "Out of the large number of people who attended that meeting - well over 100 - a dozen of us got together and are now looking at the feasibility of taking it on.
"I think there is every chance that this is what we will do.
"I'm taking my example from Little Chalfont Library which was actually chopped about four or five years ago and [a group] took it on without any help at all from Buckinghamshire County Council and are still very, very successful."
The group's planning is in its early stages and at the moment it is not clear exactly what help the council will give.
Mr Myers said it was likely it would provide a little funding.
This means group still needs to raise extra money.
It has someone working on a business plan in order to work out what funds they will be needed.
Mr Myers said the group was also seeing whether it could get charity status which would help get access to yet more funding.
How the library will be staffed is also still under discussion and the group is talking about whether or not it should bring in staff with professional knowledge.
Mr Myers pointed out that Little Chalfont Library is run by a team of volunteers.
He also said that the group had been pleased with the council's attitude.
"They've got to make some cuts somewhere I suppose and this is one of them" he said.
"But they have really been very helpful.
"We got cross to begin with and were upset, but we've moved on from that.
"This is the situation, but we're not going to sit down and keep crying about it, we've got to get on and do something.
"The feeling here is that we want to keep our library."
The group which wants to run the library has yet to be named.
Members thought about using Friends of Wendover Library, but were not happy about the acronym Fowl.
Related Internet Links
The BBC is not responsible for the content of external sites.