'Hit squads' set up to deal with potholes in Bedford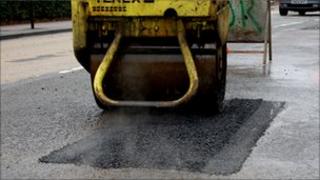 Councils are setting up their own pothole "hit squads" and employing private companies to do the work for them to help deal with road damage.
Bedford Borough Council set up hit squads to deal quickly with potholes.
Hertfordshire Council said it had established a catalogue of the conditions of its roads and set a £500m target to bring them up to standard.
Buckinghamshire County Council said it had saved about £3m by working with a private company to deal with potholes.
Bedford Council, a authority led by the Liberal Democrats and Labour, took over responsibility for highways from the county council when it gained unitary status just under two years ago.
Mayor Dave Hodgson set road repairs and especially potholes as a priority.
Special hit squads were set up and given the task of responding quickly to reports of potholes.
Budget topped up
They carried with them "hot boxes" of asphalt to make permanent repairs to damage and if this was not possible the temporary work was to be marked clearly.
Charles Royden, responsible for highways issues, said: "There had been considerable under-investment in infrastructure for many years so an extra £1m was put into repair budgets.
"Improvements have been dramatic but we still have a long way to go but a major priority is resurfacing of roads.
"In total we spend about £4m revenue plus £7m capital each year on maintaining our highways."
The maintenance grant is topped up significantly from council resources and an extra £240,000 was received last year.
The council expects to take a share of the £100m announced by government last week for authorities badly hit by potholes this winter.
"Overall the recent local transport plan grant settlement and budget decisions at Bedford Borough Council mean no let-up in trying to deal with the backlog of maintenance needed," Mr Royden said.
In Hertfordshire accurate records have been kept over several years on the state of the road system and this has allowed the Conservative-run county council to have an accurate picture of its current state.
Stuart Pile, responsible for highways, said: "One third of the county's roads are in very good condition, another half of what is left is in good condition and the remainder is deteriorating."
Hot tar
He identified the activities of utility companies, cold weather and wear and tear as the factors that led to road surface damage and deterioration.
"We deal with about 30,000 reports of potholes a year and spend about £4m a year on repairs," he said.
"Up to January this year we had received about 22,000 reports and of these about 50% are filled with hot tar.
"Repair teams return later in the year to make a more permanent repair."
But Hertfordshire said it wanted to go one step further because it knows the actual cost of bringing roads up to a high standard.
Mr Pile put that figure into hundreds of thousands and said he wanted the council to be given authority to borrow the money.
He said: "We could pay back about £30m a year over 25 years and this means we could borrow up to £500m to spend on the road network.
"The amount we want to borrow over the timescale is not large by local authority standards and would be paid back by the amount of money we are now using to fight off deterioration of the roads."
Pothole repairs
Valerie Lethern, at Buckinghamshire County Council, said cash had been limited for a number of years and costs are absorbed through increasing efficiency savings.
She said working with a private sector company has created £3m worth of efficiency savings in its first year of operation and this has helped contain these pressures.
"Our budget for highway maintenance in 2009-10 was £12.7m and of this total £2.6m was spent on pothole repairs," she said.
"The same figures for 2010-11 are £11.5m and £3.2m respectively.
"We did consider the need to reduce our budget for highway maintenance next year (2011-12) by £200,000.
"However, in view of the road damage caused by the winter snow and ice and public concerns this budget reduction will not be implemented."