Cycling set to be banned from Stevenage town centre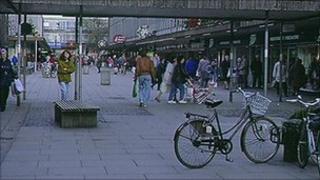 Stevenage Borough Council is planning to ban cycling in pedestrianised areas of the town centre.
The council is currently consulting town centre retailers on the proposals, which are likely to come into force in April.
The affected areas include Queensway, Market Place, Town Square, Park Place, The Forum, Southgate and Towers Path.
The council said it was to improve safety. A cycling group said it was mystified by the plans.
New signs will be put in place to inform cyclists of the restrictions and new cycle stands will be provided in the town centre area.
Enforcement of the order will be carried out by the police.
Jim Brown from the Cyclists' Touring Club in Stevenage and North Hertfordshire said he was 'slightly mystified' because it seemed to be an order which prevented people cycling where people should not be cycling anyway.
"The strange thing is that Stevenage is supposed to be supporting cycling and has had a cycleway network since the 1950s, but we seem to have ended up with a situation where you can get closer to the shops by car than you can by bike," he said.
'Bike friendly'
Labour councillor John Gardner, Executive Member for Environment and Regeneration at Stevenage Borough Council, said it was only 'popular belief' that cycling was already prohibited throughout the town centre.
"Actually under the traffic regulations, not all of [it] was covered so this regularises the position throughout," he said.
"The majority of cyclists in Stevenage do not cycle in the town centre. It is only a small number of people who make life very, very uncomfortable and potentially dangerous for both the young and the elderly and maybe even the able-bodied on occasions."
He said the town remained bike friendly.
"The policy is to encourage people to cycle into the town centre, just as we encourage motorists to come to the town centre, and get out of their cars and off their bikes and walk around," he said.