Fatal fire accused 'angry at ex-boyfriend', court told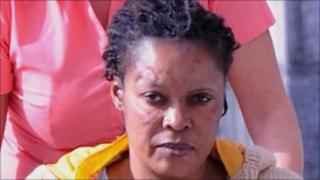 A woman who was angry at the break-up of a relationship started a fire which killed a mother and her three-year-old daughter, a court has heard.
Bola Ejifunmilayo, 29, and her daughter Fiyin died at a house in Fishermead Boulevard, Milton Keynes, in September.
Barbara Zhanje, 48, of Mill Road, Kettering, denied two counts of manslaughter at St Albans Crown Court.
The court was told Ms Zhanje's former boyfriend lived at the multi-occupancy house where the deaths took place.
Ms Zhanje also denies one charge of arson being reckless as to whether anyone's life would be endangered
Prosecutor Ann Evans said Ms Zhanje was seen hammering on the door to the room of her ex-boyfriend, a man referred to as Jumbe, and was seen leaving the scene as the fire took hold.
Mrs Evans said the accused had made numerous phone calls to Jumbe in the hours leading up to the fire.
One of the other residents in the house was woken by banging noises coming from Jumbe's front door and found Ms Zhanje in tears banging on the door, the court was told.
Ms Zhanje is alleged to have told her: "I just want to break the door and get my things because he's my partner and we have been together a long time and he's cheating on me."
The court heard that as the fire swept through the house, Bola Ejifunmilayo made a "distressing 999 call saying she was with her daughter and could not breathe".
Firefighters were at the scene in 10 minutes and rescued one resident but were unable to thoroughly search the back room where the victims lay after a landing collapsed, the court was told.
As there was conflicting evidence about the whereabouts of all the occupants of the property, firefighters concluded the property was empty and "all persons accounted for", the court heard.
The mother and daughter were discovered the following day and had died as a result of smoke inhalation.
The court heard that on the night of the fire, Jumbe was visiting his new girlfriend in Leeds.
The trial continues.