Our Lady of Walsingham statue on rare visit to Hertfordshire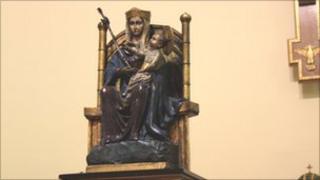 An Anglican shrine has made a rare appearance outside its Norfolk home.
Last week the statue of Our Lady of Walsingham was taken to Berkhamsted in Hertfordshire.
The visit was part of the 950th anniversary of a vision of the Virgin Mary in the village of Walsingham.
The statue was carried from the Sacred Heart Church to Berkhamsted School Chapel, accompanied by both Anglican and Catholic worshippers.
The Statue of Our Lady Mary is one of the most powerful religious symbols from the Medieval world.
The Walsingham shrine followed a vision granted to Saxon noblewoman Richeldis de Faverches in a dream.
In it, the Virgin Mary showed Richeldis the house in Nazereth where Gabriel had announced the news of the birth of Jesus and asked her to build a replica.
Holy House
This replica of the home of Joseph, Mary and Jesus in Nazareth, called the Holy House, is located in the Shrine Church in Walsingham and the statue of Our Lady can be found inside.
The statue is a copy of one that was destroyed during the reformation. It was carved in 1922 and copied from the seal of the medieval Priory which was suppressed in 1538.
Shrine administrator, Bishop Lindsay Urwin said the statue left Walsingham "very rarely".
"It's only because it's the 950th anniversary," he said, "it's rare, it just doesn't happen. Although many churches have got copies.
"In English devotion to Mary, the teaching that's been most emphasised is what we call the incarnation - that Mary bears Jesus to the world, and that's what Walsingham is about.
"The purpose of the shrine is to keep alive the memory of when Mary heard that she was to be the mother of Jesus."
Currently there are two statues, one Anglican and one Catholic, but this visit still brought people from both faiths together to profess their faith.
"It would have been unimaginable maybe even 40 years ago for such a thing to happen," Bishop Lindsay said.
"It's interesting that one of the callings of Mary in history has been to constantly draw people closer to her son and therefore if everybody's getting closer to Him then they're getting closer to each other.
"Walsingham is a sign of how far churches have travelled together, that there's no competition between us and yet we've still got a long way to go before we become what we're meant to be which is one church.
"God only wants there to be one shrine not two, but we're working on it."