Milton Keynes manslaughter accused denies starting fire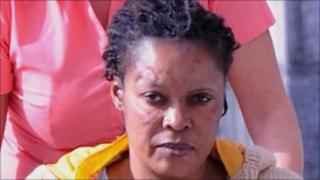 A woman accused of the manslaughter of a mother and daughter in a house fire in Milton Keynes has told a jury she did not start the blaze.
Bola Ejifunmilayo, 29, and her daughter Fiyin, three, died in the fire in Fishermead Boulevard in September.
Barbara Zhanje, 48, of Mill Road, Kettering, Northamptonshire, is accused of starting the fire to get back at her ex-boyfriend, who lived in the house.
She denies two counts of manslaughter at St Albans Crown Court.
Ms Zhanje also denies one charge of arson being reckless as to whether anyone's life would be endangered.
The jury has been told Ms Zhanje had made numerous calls to her boyfriend, who is known as Jumbe and was in Leeds on the night of the fire.
'Borrowing money'
She was seen banging on the door of his room and then leaving the scene when the fire began.
The court heard Ms Ejifunmilayo called 999 during the fire and said her and her daughter could not breathe, but they were mistaken for a mother and child who escaped from the fire in the early hours of 5 September.
The jury was told that "confusion" meant the bodies were not found until the following day.
Giving evidence, Ms Zhanje said she had visited the house to borrow money from Jumbe, who was not answering his phone.
She did not go to his room upstairs but waited in a kitchen for 30 minutes and then needed help to leave the building because she was in a wheelchair.
She claimed two men helped her outside.
When asked by her barrister Niall Quinn QC if she had started the fire, had matches or a lighter on her or had seen a fire at the house, she replied "no".
The trial continues.