Hertfordshire fire officer leads UK Japan rescue team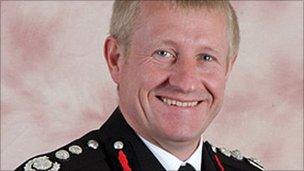 Hertfordshire's chief fire officer is leading the UK International Search and Rescue Team in Japan.
Roy Wilsher is heading up a team of 60 specialist search and rescue workers in their search for survivors.
The earthquake struck the north-east of Japan at 14:46 local time [05:46 GMT] on Friday, triggering a tsunami.
Mr Wilshire, told the BBC the group had joined members of the US military and were in convoy to Ofunato, which has a population of around 42,000.
"There are apparently hundreds of people missing," he said.
"You can actually see the emotion on the faces of the people as we go by, they are so thankful to see us and we're thankful to be here to help them," he said.
The UK team in Japan is made up of Urban Search and Rescue specialists from Cheshire, Greater Manchester, Hampshire, Kent, Lancashire, Lincolnshire, West Sussex, West Midlands, and Mid and West Wales Fire and Rescue Services.
Related Internet Links
The BBC is not responsible for the content of external sites.