Tributes paid to Three Counties presenter Ian Pearce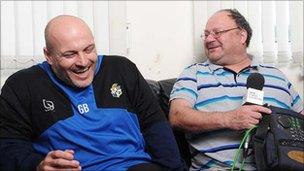 Tributes have been paid to BBC Three Counties Radio presenter Ian Pearce who died suddenly on Tuesday.
Ian had been a presenter at BBC Three Counties Radio since 1989, when he joined Radio Bedfordshire from Challney High School for Boys where he had taught English.
Since then, he worked on most of the station's programmes, but will be best remembered for Melting Pot, his Sunday morning faith programme and for his coverage of his beloved Luton Town Football Club.
If you have a fond memory of Ian that you would like to share, please send it to us using the link below.
Dad brought happiness to so many people across so many years, he truly loved his job and loved being at Three Counties. I was always surprised at how many people I'd meet who knew Dad and the work he did. Outside of radio and football Dad was a great father. He was supportive of all the choices that his sons made in their lives and very much supported us throughout some very tough times. No matter what I did wrong Dad would always be there for me and was always ready to drop everything to make time for me for or my brother. I am touched that so many people thought of Dad so highly and he was held in such high esteem in his profession that he loved.
Through all the trials and tribulations of school, college, university and moving out on my own, Dad was always on the end of the phone to help me with whatever I needed. I remember pestering him daily when I was completing my degree for advice and information for my dissertation. I'll never forget how proud Dad was at my graduation ceremony.
Dad was a wonderful father and also a devoted son to his own parents. He spent a lot of years helping to care for both his father and mother and really showed how much he loved them.
I am incredibly proud of all Dad's accomplishments and achievements and am happy that he worked at a place where he had so many important friends and respected peers. It is so comforting to read and hear so many wonderful tributes to dad.
I'll miss my Dad terribly and hope that he rests peacefully. Always in my heart and never to be forgotten.
I am very sad at the loss of a good friend, personally and to the whole of St Albans Diocese.
In recent years, Ian had become a Christian and was not afraid to share his faith widely while retaining a down-to-earth presence.
He was a true friend to the communities in the Three Counties. I give thanks for all he did as a brilliant local radio broadcaster.
I worked with Ian for 20 years. When I arrived at the BBC from newspapers in 1991, slightly bewildered and feeling very much out of my depth, it was Ian who took me under his wing.
It's no exaggeration to say that a great deal of that which I have done and of which I am very proud in those two decades has been shaped by skills Ian taught me. I'm not alone in feeling that way, I know.
Ian had begun, in recent months, to talk of retirement.
I think he had it in his mind to leave in 2013 and take it easy; but I think we both knew he would never quite be able to bring himself to do it.
Local radio and the BBC meant too much to him. It wasn't about ego or vanity - he just loved to be on the end of a microphone, talking to ordinary people who were just like him - confused by the world, unsure of their place in it and in need of an arm around the shoulder.
Every Sunday Ian would spend three hours taking his listeners by the hand and leading them on a journey which was lit by the joy of his own discoveries. Ian was many things. Witty, caring, compassionate, empathetic, sympathetic, enthusiastic, passionate and, at times, a right royal pain in the neck.
He was a dear friend and we will all miss him terribly.
It felt like he'd been part of the place since the dawn of time.
You name it, Ian did it - commentary, journalism, documentaries, presentation including the evening regional show and ultimately Melting Pot, the Sunday morning show in Luton. He seemed to know something about everything and everything about some things.
Our family of local radio faith producers has lost an outstanding colleague. Ian Pearce wasn't just a longstanding member of the team he was one who shone in so many ways. He was a real presence in the room when we all met together - a respected voice and someone who we all knew lived by the standards and values he espoused. He wasn't just good at what he did. He was passionate about it and showed a real determination to argue the case for religious broadcasting.
Ian was also a man with a sense of humour. He loved to tease. He would never let me off the hook over my typos or spelling errors in my rushed e-mails. Even reproducing his own e-mails in the style of mine and sharing them with colleagues. But it was humour with kindness and I know how he valued and looked out for his colleagues.
Ian was an interesting and challenging character. He didn't have a faith - or was at best sceptical - when he began his broadcasting on Sundays. When his Mum suffered from dementia Ian began a journey of enquiry and attended an Alpha course. Through this, and other encounters, he became a committed Christian. Not only did he reach a strength of faith he became ever more passionate about what he regarded as issues of justice. I can remember him telling me about his visit to Kenya and how he cared for the plight of people living there. In that and because of my own Kenyan charity I found very common cause with Ian and I know he was determined to help others who he knew were poorer than himself.
Ian's faith also meant that he also had a strong belief in a life after death and I know he left us with that certainty of something beyond this world clear in his mind.
He will certainly remain in my prayers. I know that those of you who have a faith will be doing the same and that those of you who don't will want to remember him in your thoughts with affection. Ian was a good man as well as a passionate broadcaster. Nothing I can say will really sum up what we have lost and how his family must be feeling at this time. Ian's belief was that he was going to a better place and a better existence - I certainly hope so as he deserved it. Ian- I wish you peace.
I first met Ian and many of you back in 2000 when I was appointed as the TV reporter in Luton. Nobody knew the patch better than he did and he was quick to offer support and help and a few words of honest feedback on what he thought. Three Counties has lost a great team mate, but we are all far better players for having been in a team with Ian.
It comes as a massive shock to everyone at Luton Town to hear of Ian's death.
It was only on Monday that we were laughing and joking together at the press conference to announce Gary Brabin's appointment.
Pearcey was a Lutonian through and through and everyone knew how much of a staunch supporter he was of this club.
Home and away, his passion for the Town knew no bounds and win, lose or draw, he was always able to accurately give his opinions on the club's performance.
I am not a religious person by any means but I must admit I have tuned into his Melting Pot show on many a Sunday morning.
Very often he touched my heart. It only goes to show what a short period of time we have here on this Earth. In that short period of time, we have to do the best we can to help others just like Ian did.
I'm so sorry to hear of the sad loss of Ian Pearce. He seems to have been part of my life for many years. I first listened to him on the Sunday afternoon "anorak" programme many years ago, a programme that brought many people together with a common interest in all things "anorak". I share his interests in Steam engines, railways and the Hatters and feel that I've lost a real friend. Rest in peace Ian.
Like most Luton Supporters I knew Ian best from him being around the ground on match days and seeing him in the pub at various away trips, and of course the after game interviews with a plethora of managers over the years. It will not be the same without him.
We here at St Albans Cathedral are deeply saddened by the death of our dear friend and colleague Ian Pearce. He really understood the role of the cathedral in ministering to the whole diocese. He was accessible, faithful and fun. I shall never forget him running after the Archbishop of Canterbury across Verulamium Park at the Albantide Pilgrimage to get that all important quote.
We shall remember him in our prayers at Evensong and in the days ahead. Please send our gratitude to his family for all he was to so many people. May he rest in peace and rise in glory.
I know how central Pearcey was to 3CR. My fondest memory of him is how he helped me out when I was producing the Timmy Mallett Drivetime show. I asked Ian if he could develop a character who would regularly appear as a gardening expert who hated gardens. He turned Bert Trout into a minor celebrity, delivering hilarious advice on concreting over the front lawn and standing as a mock candidate at an election count in Moggerhanger. It was all beautifully observed, delivered deadpan with tons of creativity.
The world is certainly a poorer place without our lovely larger than life Ian. He has done so much for me and with me over the years - it is so very hard to come to terms with never seeing him again, never hearing his warm enthusiastic, knowledgeable response to everything and everyone. What he didn't know about Luton, Luton Town, trains, history, German, a whole lot of theatre, and most if not all religions, is really not worth knowing. And then there were his beautiful readings - no wonder he was in demand at wedding services! I'm so glad the last conversation I had with him was a jokey one when I accused him of leaving the country in May to avoid coming to see the show I'm directing that month … The tributes have been and continue to be so moving - what a pity he could not hear and read them, he would have loved them - but perhaps he can somewhere …
Pearcey was one in a million. I'm not sure it's possible to put in words just how I feel right now. I'm devastated.
I keep expecting Ian to plod into the office and for us to catch up on the latest events at Kenilworth Road. Could Luton get back into the league? What his plans were with travelling companion Bill Cole on an away trip to Darlington, Gateshead or Grimsby. Plans usually enjoyed an early start making sure they arrived in enough time to sample the local ale and enjoy a hearty lunch. Football was an experience for Ian, not just a job. His passion for the Hatters never wavered and he could always put aside what had happened that week or even that afternoon and look ahead to the team winning next time out. That is exactly what he brought to all the fans who listened to Three Counties. Ian wasn't just a journalist covering football he was a true fan bringing all the emotion of what it means to be a fan to the airwaves.
Ian was a teacher long after he stopped working at Challney High School. Ian taught me much of what I consider to be important as a broadcaster and nobody cared more about Local Radio than Ian. Ian understood his audience because he was just a normal bloke who happened to be a great broadcaster. He was a shoulder for me to cry on, an ear for me to scream into when that's what I needed. A kick up the backside which I often needed. Ian was a great colleague, a true friend. I'll miss you Pearcey.
Ian and I got full time jobs at 3CR on the same day. I liked to think I was the hard news reporter doing the council and the murders and he was the community reporter covering events and making people feel better about themselves.
But he achieved something I never managed in all my years in journalism. When Luton Town decided they weren't going to talk to BBC 3CR because of something Ian had reported, I dubbed him ' the man they couldn't gag' and he took heart from that because he cared passionately about the club. Not long after they sacked the manager. I don't know whether the two things were connected. But I told him they were. And that was something I bet no other sports reporter in the business could ever claim. When reporter Ian Pearce upset the manager, it was the manager who had to go. What an epithet
I first heard Ian on the anorak program, I always found him interesting (even if I didn't have the same understanding of the subject matter) and entertaining. I will miss listening to him on Sunday morning in Melting Pot. My thoughts and prayers are with his family and friends. Rest in peace Ian.
I have know Ian for the last seven years. He was truly a lovely man, and would come to Bristol once a year to take part in an annual Faith Producers Workshop. I am so sad to hear this tragic news. It was an honour to know him.
I am not a great church goer but I never missed Melting Pot every Sunday. I don't know if I can listen to it this Sunday I never met Ian but I feel as if he was part of my family me and lots of people will miss him very much. Sunday will never be the same again. We will all say a prayer this Sunday for Ian and his family.
My wife Pauline and myself are very sad to hear of Ian's passing. We remember stories of away match mischief with Gaunty and others and always look on him as a anchor of everything good on BBC Three Counties. We'll all miss him, and I hope remember with a smile ..........
For the all too brief time I was part of the mix at BBC Three Counties, I was in awe of Ian. He seemed to be able to do everything. His personality and his huge and vast experience as a broadcaster were nothing short of inspirational. He held his own in any debate or argument or discussion (and, Lordy, there were plenty of those) but he was particularly wonderful at two things. He made people think - which is rare enough - and, best of all, he made people laugh. My enduring memory of Pearcey will be singing to fill a room as we all recorded a Christmas pantomime. The twinkle in his eye as he raised the rafters was simply fantastic. Ah, you are missed… but the memories are worth a fortune.
What a shock. Ian was a really good man who enjoyed the special medium of local radio. As with most of us, he lived and breathed the job of broadcasting and the Three Counties airwaves will miss his talent, his humour and his humanity. He graced the regional airwaves for a few years and was a joy to work with and when, in an inventive switch around of radio station Editors, I found myself in charge of 3CR for a few weeks it was a joy to be in his company. I send my personal condolences and those of us all here at BBC Radio Norfolk.
What a great loss to all Three Counties Radio listeners. I hope Ian's sons can gain comfort knowing their father gave such pleasure to so many people over the years, and we feel their loss and send our sympathy. My thoughts are with all at Three Counties Radio whose hearts are hurting today. Goodbye and God Bless Ian.
I am very shocked and saddened to hear of Pearcey's passing. It is a feeling like when Princess Diana died. I had never met him but it felt like I knew him because he was such a familiar voice and he was so down-to-earth. I used to listen to Melting Pot and the Luton Town commentaries and when he stood in and appeared as a transport expert. He will be greatly missed. Sincere condolences to his sons, family and friends and colleagues. Well done to everyone at 3CR for managing to hold it together today.
Ian and I were at the same high school together therefore I have known him for a long time. I am very shocked by this very sad news and will miss not be able to chat to him at all the Luton events we have covered together over the years.
He was not a close friend of mine but I admired him for his ability as a broadcaster and for staying local and his depth of coverage on news events and launches.
Ian was very funny at school and wrote brilliant essays rather than lines as punishment for Mr Cann our Maths and English teacher. His grasp of the English Language was very evident at 13 years of age.
He also had got the measure of the school bullies and out maneuvered them with his clever choice of vocabulary and using the rules to his advantage. He also had the guts to challenge one of toughest teachers in the school and say what he thought of her in straight non offensive way. A thoroughly decent man who I will miss.
Ian Pearce was always a pleasure to work with - courteous, knowledgeable and professional. His commitment to Three Counties was second only to his love for Luton Town. I got to know Ian while I was working for St Albans diocese, and have been much encouraged by his journey of faith in recent years. His loss will be felt by many in the three counties, and further afield.
I was so saddened to hear of the loss of Ian Pearce. I first came across him when we were colleagues working for Bedfordshire County Council. Although I am not a football fan, Ian's enthusiasm for the game and Luton Town in particular was infectious; but it will be waking up to his Sunday morning programme, Melting Pot, that I will really miss. It was a privilege to share his journey to becoming a committed Christian over the years and the programme was a wonderful mix of great music, thought provoking and sometimes challenging stories, humour and a real concern for those going through difficult times of whatever kind. It is clear from the tributes already posted that he was a much-loved colleague and friend, and I send my condolences to all of you at 3 Counties Radio and also to his family at this sad time.
Thanks Ian for all you contributed to religious broadcasting and for your support for new Christian music. I'll miss chatting on air with you.
I shall remember Ian Pearce best for Melting Pot. He had an incredible ability to reach out to all faiths and those of no faith and was clearly passionate to see the unity of faiths in Luton. Week by week he has helped me reflect on my own faith & beliefs. He will be so very greatly missed.
I first met Ian when I did three weeks work with the Action Desk at Three Counties Radio some years ago and later on during my time as a Town Councillor and Town Mayor.
As a Christian myself, Ian had great respect for all faiths and bringing the communities together. Anyone could ask him to be included in prayers on Melting Pot. He would always say it as it was but he was a proud Luton man, He would make me chuckle when he spoke about trains and Luton FC. He took the station to the hearts of the three counties people and is a great lost to this community and station. Rest in Peace Ian.
I am so sad and shocked at the tragic news of the death of Mr Luton Town Football Club Ian Pearce. I have been a listener to what was then BBC Radio Bedfordshire and now BBC 3CR since the start in 1985. I met Ian at a careers/job fair at Redborne Upper School in Ampthill when I was attending the school in 1990. He gave such good advice on how to get into local radio, he was interested and so friendly towards me and it was something I have never forgotten.
His time on the airways of Beds, Herts and Bucks brings back so many good memories. The great double act of Ian and Simon Groom in the mornings was BBC 3CR at its best. Such great laughs and coverage of true local issues. Every programme he presented and produced came across on air that so much time and effort had been put into them and the listener was always at the heart of what Ian did.
I wish his family all the very best in this hard time for them along with all his friends at BBC 3CR and of course to the thousands of listeners who have lost a true BBC Local Radio professional.
As a Watford fan I'd like to say how saddened I am to hear of Ian's death. His enthusiasm for the game always shone through in his commentaries, as did his love for Luton Town. Although he loved the Hatters, his comments were always fair and impartial and for that he had the respect of all football fans in the Three Counties. God Bless you Ian, we'll all miss your dulcet tones.
As a Hatters fan from abroad, Ian Pearce became for me the first voice of a true passionate Luton fan. I often listen to the Luton games online and Ian Pearce was the man who for me was Mr. Luton. Knowledgeable and honest in his commentary and always willing to speak up for Luton Town Football Club. I will miss his commentaries and his passion for the club.
I've probably known Ian for longer than most people having grown up with him from the age of seven in the Parktown area of Luton. I can still recall going to our first Luton Town game together in 1967 against Southend, a game which kindled his love for the sport and for Luton Town in particular. We had some great times together sharing the same love of football and transport.
Ian was best man at my wedding but over the years our lives inevitably grew apart as we both settled into family life. We kept in touch and met up whenever we could. He had the best job in the world which allowed him to do things and meet people that most of us can only dream about. His passing away is a real shock and he will be greatly missed by his friends and by the wider local community.
I'm really shocked and saddened to hear Pearcey - as I knew him - has passed away. He was such a great guy and a real gent. He was always happy to give out kindly advice and an opinion - particularly on Luton Town and trains. A real character. He'll be really missed.
Ian was loyal Luton Town fan. When working for Three Counties Radio reporting on matches home and away he told us the facts as he saw them and we all trusted his reports. If the team played badly he told us as it was, even if he was sitting there praying and hoping things would improve. He was a football realist and he was devastated when his beloved Luton were relegated from the Football League but was very positive about the club's future back where they belong. He was never a bad loser and always tried to see the positives from the Luton Town point of view. He was never down on the underdog and genuinely delighted when Forest Green escaped relegation last season due to how he and his colleagues had been treated when visiting there. His recent interviews of Richard Money were professional in depth and probing but always respectful. Thanks Ian we will miss you.
I am deeply shocked to hear of Ian's death. I was a pupil in Ian's first class at Challney Boys School in Luton and thought of him as a very kind and generous teacher. Although our paths diverged when I left Challney I have followed him on BBC 3CR since then - and was amazed at our shared interests in steam trains/model railways and Luton Town FC - I even followed him into the teaching profession. I am also aware of his involvement in St. Luke Leagrave - where he will be missed. Ian was a very unique person. He will leave a massive hole in the town!
Ian will be sadly missed by many listeners across the three counties. On behalf of the whole team at Diverse FM can I thank him for the advice he offered our sports team volunteers over the last year. He loved his football and his radio. We will miss him.
I was so sorry to hear of Ian's death, I have known him for quite a few years. He was such a likeable man, always interested in his work and firm in his faith, with ever the right questions to ask to elicit the right reply! We shall all miss him a lot. May he rest in peace.
I am very sad to hear about Ian's death. Ian put everybody at ease. The daunting prospect of speaking into a microphone was easy with Ian on your side. He was not just doing his job, but he was praying for you every step along the way. Ian went out of his way to accommodate your parish story no matter how short notice, he walked the extra mile.
I well remember Ian as a man who would never shirk a challenge - I was the one who, when he ran his evening show dared him to become a blood donor and attend a session with me. What he didn't expect was that we would go to a mobile session! Fair dos to him though, he came along to my then place of work with his assistant and recorded as we went along, a whole programme for broadcast that same evening. I know he continued as a donor and that it meant a lot to him doing so which just shows the type of man he was. He's gone now but he won't be forgotten. R.I.P. Ian.
I was saddened to hear the news of Ian's sudden passing. It was a shock to myself and some of my old school friends. I first knew Ian over 30 years ago when he use to be my English teacher at Challney Boys School in the late seventies. We both shared an interest in model railways and steam engines which continued for many years. Our paths crossed regularly over the years since I left school at various locations or in town, when we would always have a chat and catch up. He was a good teacher and a great presenter on the radio who will be sadly missed by those who knew him.
Ian Pearce, teacher, presenter and steam buff. RIP
While not being a particularly religious person myself apart from being a believer, I always used to tune in to Ian's Melting Pot programme on a Sunday morning if I was travelling to or from work. Also Ian was truly brilliant with his comments on the Luton town football commentaries, he was never shy to criticise a referee or player if they were not performing well but he was equally quick with his praise if they were. I did not know Ian personally but feel as though I did from listening to him on the radio. My deepest condolences go to Ian's family and to all of you at 3CR on your sad and tragic loss. R.I.P. Ian and thank for you for the memories that we will all treasure for evermore.
I first met Ian when he came to the Fellowship of Christian Magicians conference to report on Gospel Magic and encouraged one of our members to perform a magic trick on the radio. It was a very funny morning, and that sense of humour was typical of so much of his work. Ian had a gift for putting people at ease, and for knowing enough about all sorts of topics to ask interesting and relevant questions. He was genuinely interested in people, and supportive of the work of both our churches through Melting Pot.
Ian's baptism while on Pilgrimage to the Holy Land was very moving for all of us, and his company during that trip was always interesting, down-to-earth and cheerful. His confirmation at St Albans Abbey was, typically, followed by a few drinks in a local pub filled with Halloween diners, with much amusement all round. Ian was generous and open-hearted, he loved God and he loved people, and we will miss him.
I recall the first time I met Ian, who at that time was on secondment to the station as a teacher. Full of energy, inquisitive and always ready to get out and about in to the community, he quickly proved to be a skilful broadcaster and presenter. He was, in those early days, and remained, an absolute dynamo, forever on the hunt to find the next story, passionate and incisive, and more than this, constantly seeking the deeper level, the human interest and the 'off beat' angles.
I travelled with Ian and others to the Holy Land on a pilgrimage a few years ago. A few of our number were initially concerned at having a 'journalist' along with us, but they were soon won over. Ian brought sensitivity, insight and understanding to his reporting. I shall treasure for always the time we spend sitting with a glass of beer and watching the sun set over the Sea of Galilee. His material from this and a subsequent visit to Israel was widely used, on 3CR and far beyond, and in typical fashion, he did not stop at the superficial, but delved with considerable panache into the real issues in a troubled and complex land.
Go well Ian. You were a bright and rare light, and it was a privilege to share your insight and enthusiasm, however briefly.
Having known Ian for many years as a friend and Luton Town supporter, to hear of his death is so sad. He was a larger than life character and will be sorely missed by everyone that he knew him and was a pleasure to be in his company. I was only having a drink with him before Southport match on Saturday, and being a Luton fan for over 40 years+ as Ian had been, he just loved talking Luton Town, being involved with the Hatters, and spoke with so much passion. We now have to do everything possible to get the Hatters promoted back to the Football League, and dedicate it to Ian, which is the least we can do. God Bless you 'Pearcey'.
Ian was a connoisseur of good quality ale as well as a welcome and witty guest of honour at the Luton Beer Festival for several years including the official opening and presentation of the local CAMRA Pub of the Year award. Long before that, I was privileged to be a student of his in the early 1980s at Challney High School where he was a rare provider of light in the otherwise miserable days of my school days. Most notably, Ian ran the school film club where he introduced myself and fellow students to such seminal works as The Producers, Blade Runner, Gregory's Girl, Blazing Saddles and, most remarkably (given his later days) Life of Brian - for which he got into a bit of trouble. Ian's loss is a great loss to society.
I was lucky enough to cross his path several times in my life. As a 14-year-old struggling with his then English teacher, I got moved to Pearcey's English class and never really looked back. He was always encouraging and took time to talk to you.
Later on in life, I happened to be in Dubai for a friend's wedding. There were eight friends there, and six of us were taught by Pearcey (or "sir") at Challney. We were listening to a 1-0 victory over the internet after a round of midnight golf for the stag-do. An excellent night, topped off by a Luton Town win and a name check we had managed to ask Pearcey for before we left.
Then there was the start of Trust in Luton, at which point I got to know him again. The occasional ale has been supped with him since, and it's a measure of how well liked he was and how well respected he was with the amount of tributes pouring in from all sources.
A man who stood up for and was proud of his Luton heritage, and a lifelong Luton Town fan. The world is a poorer place without him - one of those genuine people who will be sorely missed. My thoughts go out to his family and friends. RIP "sir" / Pearcey.
I am very sorry to learn of the death of Ian Pearce. He was a great friend to Bedford Council of Faiths, of which I am a member, coming to many of its events and interviewing our members for various events and activities, most recently at our Faith Fest at the beginning of March. Ian was such a kind man and so enthusiastic with just the right degree of wry humour and down-to-earth common sense. His shoes will be hard to fill and we will all miss him.
In the early days of MK dons I was part of a group of fans trying to help the club settle to Milton Keynes. One of the things we did as a newly assembled group of random footy fans was to hold an evening in support of victims of the Tsunami in Sri Lanka. Ian kindly turned up to support us despite his understandably strong feelings about MK Dons and the merits of the move from Wimbledon, (it could have been his club relocated). He saw way past all of that though, and spoke passionately to the assembled audience about the importance of a group of people working together and doing something for other people. He gave us immense encouragement to continue and the positivity he spread lasted long long after that evening. One of the good guys has gone. Rest in Peace Ian.
Very, very shocked to hear of Ian's death. He was a true local radio man - who loved and knew his patch, and the people in it. He delighted in their stories, and was passionate about sharing them, which, in turn, encouraged people to feel good about the place they're from and the life they're living. An extraordinary contribution, a special man.
I was so sorry to hear about Ian's passing. He was certainly a stalwart of local radio in the Three Counties; it seemed that if there was a problem, he was there to cover. I think that, like a stick of rock, he would have "3CR" through one half and "Luton Town" through the other. Although I only met him personally a couple of times, he was like a friend I had a standing arrangement with every Sunday for a couple of hours. He seemed to appreciate my odd sense of visual humour. My sincerest condolences to his family, friends and colleagues. Ian, I'll miss you.
A number of folk from my church here in Bromham, in North Beds went to Utange, in Kenya last January with Ian and Lorna when they did their live broadcast on the opening of the second phase of Debbie Scott's orphanage. Ian was the consummate professional, very hard working, and great fun to have with us....very witty and always lots of stories to tell. Ian also did a lovely feature for Melting Pot on our church and its activities in the latter part of last year.
A great loss to 3CR and its listeners… he will always be fondly remembered. I am glad he became a Christian, may he rest peacefully and eternally in the loving care of our God in heaven.
We first met Ian when he organised a transport rally at Leighton Buzzard Railway Centre. He greeted us as if we were good friends. By the time we left we felt like we were good friends. We spoke to him several times after that on the radio. The transport day at Stockwood Park was another place that we met him and he always recognise us and greeted us by name. He would come and look at our old car and always have a good conversation with us. I remember that he would come over and insist that I have a chat on the radio and would ask me things about the cars and the buses that he was so fond of. I just kept my fingers crossed that I would be able to answer them.
I am still so stunned at the news. Long live the memory of Ian. Our deepest sympathy goes to his two sons and to three counties radio. Sunday mornings will not be the same without waking up to the sound of his voice.
I'm sorry to hear of the sad loss of Ian Pearce, I know Ian best from Challney Boys where he taught us English 30 years ago, and it's the same Ian Pearce then as you know him today, he will surely be missed.
I listen into The Hatters here in Winnipeg, Canada on my computer. Pearcey was 'Luton Town' in every way and never compromised his position on air at any time. He will be sadly missed but am so glad he was part of the town which he loved. R.I.P.
LTFC may have lost one of its sons, but Heaven has just become a better place. R.I.P Pearcey.
I met Ian at the Marston Vale Forest Centre who along with your radio car was reporting on the Three Counties Bus and commercial vehicle museum that he was personally involved in. His interest in transport be it trains, buses and coaches was much like mine and his knowledge and enthusiasm on all that will be sadly missed. My thoughts are with his family.
Ian was someone who, ever since I started work experience at BBC 3CR back in 2002, I saw as a mentor, a teacher and someone I looked up to a tremendous amount. I learnt a huge deal from my time with him (as indeed I have from everyone there) and all this was key in my progression into university.
Having left university and joining Diverse FM, the situation changed to the point where we were colleagues (as well as friendly rivals during 09-10), hopefully trusted ones and maybe even going as far as to say friends.
I continued to learn from him every single time we met and every press conference we did. I will miss him greatly and am still in shock that he is gone.
Ian was one of the most dedicated people I've ever worked with. He was a real champion of local radio and would take on any challenge that was ever set. He was keen to be involved in anything he could and was hugely helpful and supportive when I first came to Three Counties. I'm sure he will be missed by both staff and listeners.
'Pearcey' summed up everything that is unique and good about BBC local radio - passionate, knowledgeable, enthusiastic. Kenilworth Road, Bedfordshire and BBC Three Counties is a poorer place for his passing.
Ian was always so positive as I developed my contacts and abilities in radio broadcasting, pointing me in the right direction on a number of occasions. Just recently he aired my first ever attempt at a journalistic report, and was so encouraging. We had plans for more collaboration, which will, sadly, not come to fruition. A lovely man who will be sorely missed.
Mr Pearce was my english teacher while at Challney 1983-1988. His teaching methods where never traditional and we used to discuss everything from time travel to his music tastes. He was so left field in his teaching methods and, hope he doesn't mind me saying, used to take the mick out of the teachers who could not relate to us and were too strict and stand-offish in their methods. If anyone has seen Dead Poets Society, well he was like the Robin Williams character.
Too young to die and he will always be a teacher I will remember for the rest of my life.
Like so many, we were also very shocked and sad to hear about the passing of Ian. He was a great support to us and invited us in to his studio on very early Sunday mornings to help us promote projects going on at our church. He will be greatly missed and our prayers and thoughts are with his family at this time.
Over many years it felt like I shared a seat with Ian at Kenilworth Road, or whatever away ground he was at, whilst he commentated on the ups and downs of the Hatters. He will be greatly missed in my living room on Tuesday nights and Saturday afternoons.
I have been a Luton supporter for over 50 years and over the years got to talk with Ian at the occasional match and on the radio re our beloved Luton Town.
I always, apart from once, thought we had very much the same views on matches and generally saw the match as it was and not as totally biased supporters. However the one time I did disagree with Ian was only two weeks ago after the Mansfield home defeat. I had a 35 mile drive home after the match which was made enjoyable by waiting for Ian to voice his views and interview the manager. On the occasion of the Mansfield match however, Ian angrily voiced his opinion of the referee and his poor performance. I could only see that both sendings off were deserved and the referee got those decisions correct and the players involved should be ashamed. I felt strongly enough to write to Ian and tell him how I felt. I am sure he thought I was mad and had a chuckle because that's the man he was.
Ian please don't put a bad word in for me to the Good Lord, I bet he thought they were red cards, we all know we see every decision differently.
Rest in peace, you will be very sadly missed.
Such a sad day to learn of the passing of Ian Pearce. He will always be remembered by this family. He was not just a talented broadcaster but always generous with his time. We were lucky enough to meet him several times and I will always remember the kindness he showed to our son, Matt, during the transport rally at LB railway, when they spent some time sharing their passion for steam and he took the time to encourage Matt's interest. My thoughts and sympathies are with his family, friends and colleagues. Rest peacefully Ian, you were a lovely man and will be very much missed.
As a lifelong Luton supporter living away from the Town my two children and I have thoroughly appreciated Ian's comments and knowledge on the radio. Whether in times of victory or defeat, triumph or crisis he gave a very balanced view - just witness the care and thought that went into interviewing Richard Money recently.
All in all a great man and the Luton supporters in our household had a long chat about him last night - which merely reflect the accolades throughout this site… Top man.
I first met Ian, or 'Sir' as he was then, on his and my first day at Challney in September 1977. I was a naive 11 year old, completely overawed by the prospect of being a minnow in an ocean of giants. Ian was my form teacher and his calm and pleasant manner helped me no end in the early days. It was only in recent years that I discovered that it was Ian's first teaching post and having recently entered the world of teaching myself, I now understand what must have been going on beneath that calm veneer. Aged 14 I started following the Hatters and would often talk at length to 'Sir' during registration on Monday mornings where our mutual passion (or affliction as my dad would call it) was brought to the fore.
I last saw Ian a few years ago when I passed him in the Challney corridor on my way home from a meeting. I smiled and said "Evening Sir!", the immediate response was, "It's Ian now Tony - I haven't been your teacher for about 15 years!" What a remarkable man to remember a student from so long ago and instantly know my name. We stopped and reminisced for several minutes and like old times, soon got on to the subject of the Hatters. Somehow Ian or Pearcey just doesn't do him justice, he will always be 'Sir' to me… RIP
I am totally shocked at the sad passing of Ian. I remember my debut as presenter on Melting Pot, Ian was in the studio with me at 6.00am to see me through to 9.00am and quite honestly without his presence I hate to think how the programme would have turned out. He was a true professional and possessed a passion for radio that was second to none. Although Anne and I moved to Dorset three years ago we still listened to Melting Pot with Ian via our internet radio. Ian was doing such a brilliant job and will be missed by all.
Pearcey helped me more than he could possibly have realised in my early days of broadcasting. Always available for a chat, some reassurance, and advice that was never wrong.
His Sunday Anorak show was just perfect for him, and his David Beckham impressions on Ronnie's Drivetime show were both awful and hilarious in equal measure.
A pain at times, but always the most genuine and generous guy you could wish to meet.
For me, Ian was Three Counties 'Mr Chips'. He'd dedicated his working life completely to serving an audience in one place and was absolutely determined that audience deserved the very best. For Ian, the listeners were his family. He'd faced changes of management and strategy with stoicism and resilience, always believing that local radio would win through (rather than BBC processes) because it mattered to people.
I also know how much joy Ian got from developing talent in new members of the team and from seeing people thrive. In a culture where many people measure their worth by getting the next job, Ian proved something very important: that making a profound difference in one place is probably the most noble thing you can do with your life. We should all hold on to Ian's belief in authentic, challenging and truly local output as we fight the case for strong BBC Local Radio. That should be one of his most important legacies.
Ian's passion and unwavering positivity was something that you could always count on for his beloved Luton Town. However, his enjoyment went far beyond just reporting on the Hatters as matchday, wherever Luton were playing, was an adventure for Ian. His diaries of his travels around the country were always an enjoyable and humourous read.
He was an extremely versatile presenter as he hosted many other programmes for local radio in over 20 years service. The last time I saw him was a few weeks ago when we were both collecting cars from 3CR HQ ahead of trips north. He pointed me in the direction of the one I had been allocated and then said "I am taking the non-league van!", a typically humorous view of his club's current plight. He will be sadly missed by family, friends, colleagues and listeners alike.
As a Hatters fan in Texas I started listening to Ian's 3CR commentaries via the LTFC website. Being so far away from "home" it was great to hear a friendly voice who obviously loved the Hatters as much as I did. I now listen online and always enjoyed the banter between Ian and Simon. Were laughing out loud just the other week when Simon was trying to explain Twitter to Ian, classic stuff. I will miss his voice and passion for the Hatters. RIP Pearcey.
We are truly shocked to learn of the death of our friend Ian Pearce. He was a much loved and great friend of Luton & Milton Keynes Sai Centre (Sri Sathya Sai Service Organisation (UK)). For the past seven years he has taken a keen interest in our activities, particularly our 24hrs non-stop Singing for Peace (Akhanda Bhajan), where he has carried out a live broadcast from the event on several occasions.
His professionalism, love and dedication for his job, his open mindedness, knowledge of different faiths and always seeking to enhance it further will surely be missed, as will his love for humanity, his humour and as ever smiling face will never be forgotten.
I was shocked and saddened to hear of Ian's passing. As an ex-soldier and a recent Christian convert, I owe so much to Ian's passion of life and faith. As a listener to his shows over the recent years, I believe it was his faith that made me change my views on life. God bless you Ian and your family.
As a recently qualified Broadcast Journalist in the mid-nineties, Ian showed me the ropes at 3CR and welcomed me to the team.
In the world of broadcasting there aren't that many genuine, kind, gentle and self-effacing characters. Ian was one of them. He'll be missed.
It's easy to roll off superlatives when someone passes away but with Pearcey everything said about him you know is true and heartfelt.
On Saturday afternoons he was in the commentary box as a passionate Luton Town fan, by Sunday morning Pearcey would be reading out the listeners prayers and messages of hope, not many could do both with such dedication and professionalism, and sound so at ease in either capacity.
The sports show on Saturday will be missing a voice, it's a void that will never be filled.
I've got a lot to thank Ian for. Not only for being a great friend and colleague, but also for helping me to get into radio in the first place.
I was first introduced to Ian in early 1990 when he was brought in to teach radio to my English GCSE class at Harlington Upper School. At that time he was BBC Radio Bedfordshire's education producer. To cut a long story short, we were asked to review a radio programme for homework. Ian told me he was impressed with my review of the sports show and said he would get me work experience at Radio Bedfordshire and introduce me to the sports producer (who later gave me regular shifts).
He taught me loads and I had the pleasure of working with him on hundreds of programmes and outside broadcasts. I have now been working for the BBC in various roles for over two decades, all thanks to Ian who opened the door for me in the first place.
My experience is by no means unique, I know that Ian provided the same level of support and guidance for many others as well. I will miss him terribly.
I remember the times Ian had been with us at the Deeper Life Bible Church, Milton Keynes, to record our Worship Services and those times were quite remarkable, as he demonstrated his love for God and desire to do something significant for the Kingdom of God.
Our thoughts are with Ian's family at this time and all the staff of BBC Three Counties. Our sincere prayer is that the Lord will keep all that Ian left behind and will give his family His Consolation at this time.
Ian was the last and one of the best of a long line of teachers who made the transition into local radio as a 'seconded teacher'. We were lucky that Bedfordshire Local Education Authority was prepared to invest in BBC Radio Bedfordshire when the station began and that we gained so much experience from those who had their feet in the community, had real skills with people and a genuine joy in communicating with the listeners. Radio Bedfordshire was a family station and rooted in the audience which it met in so many places and Ian was soon at home as one of the team.
It's a large commitment to change course in mid-career which is, of course, what Ian did and he did it splendidly. I doubt any of us thought that his role would eventually cover so many aspects of local radio broadcasting and that he would be in the mainstream of reporting, sport, religious programming as well as features. We all realised that he had real knowledge but few can manage to cover so many bases. I remember most of all the enjoyment Ian brought to the job as well as the range and quality. His production work, particularly at the time when Radio Bedfordshire became Three Counties Radio and Ian went off into the sun on a tandem with Simon Groom beating the bounds of Herts and Bucks was the stuff of legend.
So thank you Ian from those of us who were there twenty years ago and those of us who stayed with you throughout the journey. It's far too soon for it to end but we are very grateful for what you did and achieved along the way.
I just wanted to extend my sincerest sympathy to Ian's family and also to all of his colleagues at BBC 3CR.
While I was at college in Luton between 1990 and 1992 I did some part-time work as a tech-op / broadcast assistant at the then Radio Bedfordshire. I will always remember Ian as someone who extended courtesy and patience to me. He was always very good humoured. My thoughts and prayers are with you all at this very sad time.
Like many of my colleagues I was shocked and saddened to hear of the sudden and untimely passing of Ian. I have enjoyed working alongside and learnt so much from Pearcy over the years. For Ian, working in radio was never a job it was a lifestyle and he cared deeply about the local communities he served and loved living and working among them. A true Lutonian, proud of his roots and a stalwart of local radio, he always put the listeners first and shared his passions for local life with us all. I will be eternally grateful for the time he invested in helping me develop a career in radio during the Radio Bedfordshire days and beyond. I feel incredibly lucky to have known and worked with him and I'll hold dear the many memories that make me smile.
I was at school with Ian and will always remember his ability to paint such vibrant pictures with words, even as a 12-year-old. After school we did not remain close friends, much to my regret, but spoke occasionally, and I often listened to him on the radio. What a truly nice boy, transformed into a lovely genuine man that he was. Reading some of his kind tributes brings me a little closer to some wonderful and very funny memories I hold of this man. Keep a seat warm for me, mate!
It is with a heavy heart that we heard of the passing of our friend and President Ian Pearce.
I was first introduced to Ian by the late David Johnson during a London Christmas lights bus tour during the time we were trying and failing to turn the old St Albans bus garage into a museum. At the time Ian was presenting a Sunday programme called the "Anorak Show", on which our group had featured from time to time.
Following our failure to set up at St Albans, Ian supported our efforts to set up an alternative project which was named after BBC Three Counties, which he has been President of since its inception.
Ian whenever he could, supported our meetings and shows, some of the finest memories being Pages Park at Leighton Buzzard and the Luton Festival of Transport in Cutsloe Park, where he was persuaded to take the wheel of some of our old buses. No doubt at the time, enjoying our inevitable 'wind up humour'. Ian we miss you.
I met Ian on several occasions, and each time was a joy. He first came to visit us here at Sundon to talk to me about the Church, and over the years he made several visits. He was always tremendous fun, and had a wonderful sense of fun, and enthusiasm for what he was doing. When we did a short series on church vestments, he said to me that we 'would have some fun with it', and we did!
On a few occasions he came to Sundon to do 'Here I am to Worship', and perhaps the most important of those was for the Organist's 60th Anniversary; Ian really added to the joy of the event. On several occasions, the Head Server would come to me in the vestry before the service and say, 'Ian Pearce is in the congregation'! It was always a joy to have him with us when he visited.
The last time I met Ian was a couple of weeks back. He came to talk to me about Lent, and I had agreed to play something on the organ. Time and again I just couldn't get the notes right! Each time he smiled and said 'just one more go', with a real sparkle in his eye! With great fun we got there in the end!
Ian has been a very great friend and support to us here at Sundon, and I have many wonderful happy memories of his visits to Sundon.
Ian was a true gent, and would, in my experience, go out of his way for other people. He will be remembered with much fondness, and I know that for many of us, the memory of Ian will bring many smiles to our faces as we remember a wonderful character, with a big sense of fun, and most definitely an even bigger heart.
It has been both a pleasure and a joy to have known Ian, and his memory will certainly live on amongst all of us here at St Mary's Sundon.
I shared press boxes with "Pearcey" at football grounds up and down the country and he was always somebody you looked forward to seeing and sharing a bit of banter with. Ian had a great sense of humour and was a passionate Luton fan who did not let his club loyalties lead to reporting through white, blue and orange-tinted glasses - a true journalist and top bloke.
I only have fond and lovely memories of Ian. In fact, only last week I was looking through old photographs and found a brilliant one of Pearcey dancing at a staff Christmas party in his teachers mortar board and gown and partying hard! In fact, so hard, I do remember some kind of injury as a result! I worked at 3CR around 1995 - 2001 and Ian was like an elder statesman and a good solid piece of the 3CR furniture. He always had time for those of us that were learning how to be a journalist and programme maker and was truly lovely, supportive and nurturing. He was also really funny, on and off air and I loved his characters with Ronnie B. It was a privilege to know Ian. He was a really good man. We can all learn a lot from Mr Pearce.
I was dreadfully shocked to hear that we had lost Ian. I always regarded him as a friend and he went out of his way to make some pointed remark to 'Ann in Luton' usually of an uncomplimentary nature! Living so close we would sometimes see each other in Tescos and stop to chat!
With his love of anything mechanical he certainly brought new subjects to my horizon in the Anorak programme. My heart goes out to his sons, and I remember you Chris answering the phones for your Dad's programmes. God bless you Ian you were loved by many.
Ian was a good colleague - entertaining to be with and, as is so evident from reading the tributes to him from such a wide range of people, he made a great impression upon all those with whom he came into contact. He was a versatile broadcaster and had those three great things that you need to work in radio - a passion for the medium, a passion for people, and being interested in absolutely everything. He'll be sorely missed by all those around him, I have no doubt.
I spent my first day in the BBC with Ian Pearce, being shown around his patch in Milton Keynes and rural Aylesbury Vale. In a single day he went from story to story, knocking them off in a slick way few reporters could match in this digital age. He connected with everyone he met, that day and later, because people could see he was like them, and he understood them (there are many media people of whom that cannot be said). In that one day, 17 years ago, he imbued me with a radio philosophy that has remained with me. My first months in the BBC, after a long career in newspapers, were a struggle; without Ian around, always supportive and kindly when critical, I doubt I'd have survived in the organisation. I couldn't imagine Ian retiring.
Ian spoke often of his pride in his children. I now know they are proud of him; they have every reason to be.
Ian was a loyal and trusted friend, a popular and warm hearted fellow. He helped to promote a better understanding of Islam and invited me on to his Melting Pot programme. He was a very helpful and outgoing personality reaching out to all people. He went out of his way to help me personally, accompanying me on a number of visits, including one to the Royal National Institute for the Blind to help me choose a computer to help me with my visual impairment. He will be sadly missed by the whole community comprising people of all faiths and none. May his soul rest in peace
Because of the huge number of tributes we have received for Ian, we are unable to publish them all on this page. We will however pass every message received onto Ian's family.