Libraries under threat look to West Wycombe success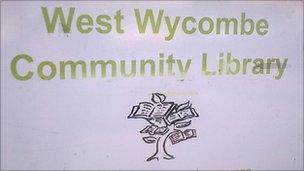 A Buckinghamshire library is being contacted up to four times a week by other groups hoping to emulate its success.
West Wycombe Community Library has been run by volunteers since it came under threat following a Buckinghamshire County Council review five years ago.
Local people formed a group and its business plan was accepted by the council in October 2006.
The library is run by 20 volunteers who also help raise funds.
The Reverend Nigel Lacey, chair of the library committee, said residents wanted to do something positive rather than just protest about closure.
They set up the West Wycombe Library Action Group with the intention to run and develop the library.
"None of us had run a library before and it's been a steep learning curve," he said.
"We worked out what we needed to do get volunteers, to get people to run it and get book donations.
"It took several months of meetings and getting core people together who were keen to carry it forward and prepared to put the effort into it."
He said the county council were cynical at first.
"I think the council really set us up to fail," he explained, "and we subsequently found out they thought we would fold in six months. We're very proud to have not done that."
The library, which has been housed a the former wheelwright's shop since 1940, has two computers which allow internet access for a small charge, as well as its shelves of books.
There is a coffee shop and it also sells local crafts, homemade chocolate, book bags and cards.
These extras are vital to its success, said Mr Lacey.
"It's been costing around £9,500 per year so that's been a lot of money to raise," he said.
"The main cost has been our rent to the county council, which is a couple of thousand per year.
"But our coffee shop makes about £3,500 - the rest we get with fundraising and donations."
As other libraries face closure as a result of council cuts, West Wycombe Library is being held up as an example of how a community can run its own and Mr Lacey is happy to give advice.
He said the most difficult thing was to keep going. "It's easy to set something up in a flurry of enthusiasm.
"To sustain something has taken more effort, but we've got there.
"We've gone through low points and there have been times when we've wondered if we were going to ever pay the bills but it's never quite come to that and now we're actually much more settled financially."
He said he would not recommend such a scheme to everybody.
"We are being contacted by two, three or four groups a week now, looking at running community libraries.
"This particular model works here because we've got lots of visitors to West Wycombe so therefore we can do well with the coffee shop and we've also got lots of good volunteers here.
"I could see that works well in some places but I can see some places would find that very hard to do.
"The key is good volunteers who will commit to it and we've got some wonderful volunteers here.
"It's being called an example of the big society, well, actually it's not, it's just local people wanting to run their library. That was always the intention."
Related Internet Links
The BBC is not responsible for the content of external sites.