MP Grant Shapps backs luxury barn ruling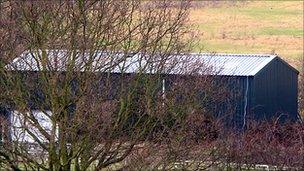 A Supreme Court decision that a developer breached planning rules by building a luxury house disguised as a barn on greenbelt land has been backed by housing minister Grant Shapps.
On Wednesday, the court ruled against Alan Beesley and his wife Sarah, criticising his "dishonest behaviour".
They now face losing their home near Potters Bar, Hertfordshire.
Mr Shapps said: "If you go out of your way to try and deceive the authorities, you can't expect leniency."
Mr Beesley was granted permission in 2001 to build a barn for agricultural use only, but fitted it out as a luxury house complete with three bedrooms - two with en suite bathrooms - a study, living room, a garage and gym.
From the outside, the property at North Brook Meadow looks like any other hay barn with a curved roof, no windows and surrounded by farmyard machinery.
Mr Beesley, 38, and his 35-year-old wife Sarah moved into the completed property in 2002 and applied for a certificate of lawfulness four years later - by which time they believed the time limit of enforcement action had expired.
Welwyn Hatfield Borough Council refused to provide the certificate and Mr Beesley appealed against its decision in a drawn-out legal process which culminated in the Supreme Court finding in favour of the council.
Supreme Court judge Lord Brown pointed out that the council can "if it thinks it expedient, seek to enforce not merely against the continued use of this building as a dwelling house but additionally against its construction".
The ruling means the Beesleys can no longer live in the barn.
Council chief executive Michel Saminaden said: "From day one, we have taken the view very strongly that people shouldn't be able to profit from deceitful and dishonest behaviour."
Mr Shapps, the Conservative MP for Welwyn Hatfield in Hertfordshire, said he wanted to see a faster and more efficient planning system, adding: "The courts have quite correctly spoken on this occasion."
The council said it had not yet decided on what action to take regarding the future of the property.
Related Internet Links
The BBC is not responsible for the content of external sites.