Artwork inspired by St Albans' residents unveiled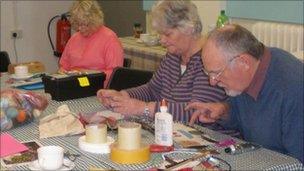 The Museum of St Albans has unveiled a new artwork showcasing the skills of some of the city's older residents.
'Made in St Albans', constructed in the shape of an apron, has been created by retired people from their memories of working in the city.
Skills such as smocking, embroidery and metalwork have all been incorporated into the artwork.
The piece was put together over six weeks at an art course at the museum run by Buskin, a local arts group.
Museum curator, Elanor Cowland, said: "It's extremely important that we continue to talk about things that took place in the district in the past.
"Younger people are really surprised when they realise how much was produced here in so many small factories."
The artwork will be on display at the museum in Hatfield Road until September 2011.
Related Internet Links
The BBC is not responsible for the content of external sites.