University opens cyber-stalking research centre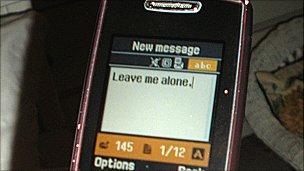 The University of Bedfordshire has opened the first national centre for research into cyber-stalking.
The opening comes as National Stalking Awareness Week is launched, under the slogan: "Name it. Report it. Stop it".
The centre will work closely with technology, psychology, sociology and law experts to research the problem.
The British Crime Survey suggests up to five million people a year suffer from stalking or harassment.
Launching the centre, Professor Carsten Maple, said: "The growth of the problem is something that clearly governments, charities and the public are concerned about.
"That is why we have set up the centre; to ensure that systematic, academic research is carried out which can be used as a basis for effective preventions and responses."
The centre will work closely with various organisations including the Crown Prosecution Service and the Trade Union and Professional Association for Family Court and Probation Staff (Napo).
Assistant general secretary of Napo Harry Fletcher said cyber-stalking was "prevalent across England and Wales".
"Napo figures show that of 53,000 cyber-stalking allegations recorded in 2009, there were 6,581 convictions. Of those convicted, 18.5% were jailed," he said.
Mr Fletcher said the actual number of incidents was probably 10 times the number reported to police, but many people were not coming forward
"Stalking must be taken seriously. It destroys lives and indeed can lead to loss of life."
Related Internet Links
The BBC is not responsible for the content of external sites.