Missing cat's leg found on doorstep in Aylesbury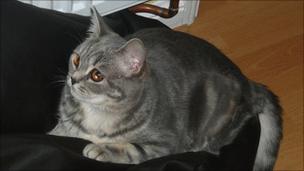 The front leg of a missing cat has been left on the pet owner's doorstep in Buckinghamshire.
Darren Stratfull's cat Rocky had gone missing from the family home in Puffin Way, Aylesbury, three weeks earlier.
The family had posted flyers in the area and asked residents if anyone had seen the eight-month-old cat.
But then Mr Stratfull discovered the animal's front leg in a plastic bag on his doorstep. He said: "It was quite shocking".
He added: "The fur was a kind of blue cream colour, which matches the colour of Rocky, and so I am 90% certain that it is her.
"However, I am not sure why someone would leave this on our doorstep.
"It could be that they had heard we were missing our cat, discovered the limb, and then decided to leave it to show that they had found her. Or it could be something more sinister."
The RSPCA is investigating the incident, which happened on 23 March, and is appealing for information.
Inspector Martin Rivett said: "We have no idea why someone would leave the cat leg on the doorstep, and we just hope that there is someone out there who can explain why this has happened."
Related Internet Links
The BBC is not responsible for the content of external sites.