St Albans Council agree plans for Samuel Ryder statue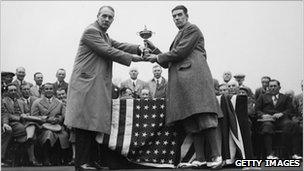 Plans to erect a £150,000 statue celebrating the life of Samuel Ryder have been agreed by St Albans Council.
The former resident's name adorns one of the most famous sporting trophies, golf's Ryder Cup. He is buried in St Albans' Hatfield Road cemetery.
Councillors hope the statue will be the first in a series of new monuments for the city.
A proposed sculpture trail aims to raise the profile of the art, culture and heritage of St Albans.
The statue, which will be funded by the Samuel Ryder Foundation, has won the backing of golf commentator Peter Alliss and former US Masters champion Ben Crenshaw.
The statue, the design and position of which have yet to be agreed, would form the first link in a St Albans Heritage Sculpture Trail.
The trail would feature statues of famous figures such as Francis Bacon, Stanley Kubrick and even Alban himself positioned around the city.
Bryan Hanlon, chairman of the Samuel Ryder Foundation, said: "The Samuel Ryder Foundation is working very hard to bring back into public memory a man who was not just an exceptional businessman, employer and philanthropist, but who went on to donate the Ryder Cup, now one of the top international trophies in the world of sport.
"St Albans City and District Council has agreed that it is time we celebrate the life and achievements of this great man and we are delighted that the cabinet have given their approval to a scheme which includes a statue of Samuel Ryder in the very heart of our city."
Ryder, born in Lancashire in 1858, amassed his fortune in the packet seed business after settling in St Albans.
As Captain of Verulam Golf Club, he first organised a golf match between the professionals of Britain and the US in June 1926 at Wentworth.
The inaugural Ryder Cup was held at Worcester Country Club, Massachusetts, the following year.
Related Internet Links
The BBC is not responsible for the content of external sites.