Central Bedfordshire stops funding for music service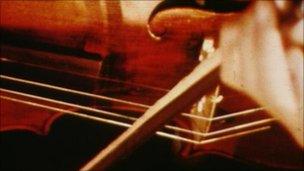 Many parents whose children take music lessons at Bedfordshire schools will have to pay 69% more for their lessons next term.
The Bedfordshire Music Service provides county-wide instrumental lessons for children, young people and adults.
However, Central Bedfordshire Council, which hosts the service, has stopped its funding.
The money-saving change is part of the council's £12m programme of cuts from its 2011-12 budget.
Wendy Sears, who has two children, said that she was "shocked and depressed" at the increase.
"I thought they could at least have waited until the end of the academic year so people could perhaps make other arrangements if they needed to."
Ms Sears' eldest daughter plays three instruments and the youngest plays the clarinet. The increase means that she will have to find about another £340 a year to fund their school music lessons.
Helen Reading from Children's Services at Central Bedfordshire Council said the council has had to make some very difficult decisions in terms of the current economic climate.
"[It's] had to make decisions to focus the resources it's got on the most vulnerable children in the statutory services," she explained, "so that has meant that difficult decisions have had to be made in relation to other discretionary services that previously the council has been able to support."
But she added: "With the support of other organisations we may be able to provide some support through bursaries if we are able to attract that kind of funding from other sources."
Central Bedfordshire Council has hosted the music service since April 2009 when Bedfordshire County Council was replaced by two unitary authorities, Central Bedfordshire Council and Bedford Borough Council.
Bedford Borough Council will develop its own separate music service provision arrangements from September.
Related Internet Links
The BBC is not responsible for the content of external sites.