Henry Moore exhibition to open at Hatfield House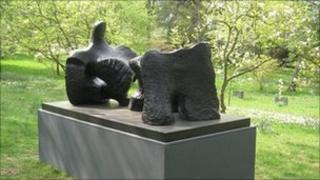 An outdoor exhibition of 15 monumental bronze works by Henry Moore will soon open at Hatfield House.
It is the centre piece of a year of events to celebrate the Hertfordshire stately home's 400th anniversary.
'Moore at Hatfield' is the largest collection of the British sculptor's monumental works ever exhibited in the grounds of an historic house.
The works are from the collection of The Henry Moore Foundation, which is based nearby at Perry Green.
The Marquis of Salisbury, whose family have owned the Jacobean house continuously for the past 400 years, said the exhibition was an appropriate way of celebrating the anniversary of the completion of the house in 1611.
"We wanted to celebrate the fact that Hatfield from the very beginning has been interested in the arts," he said.
"The builder of the house [Robert Cecil] was a tremendous artistic patron of music, pictures and sculpture.
"We thought that since he was at the cutting edge of the world of the arts at the beginning of the 17th Century, it would be rather fun to have one, if not the greatest, of the British modern 20th Century sculptors in the form of Henry Moore to help us celebrate that anniversary. It would be in the spirit of the house.
"They've been sited with great skill by the people at The Henry Moore Foundation and looking round I'm even more pleased than I thought I'd be."
Perfect setting
There are 14 bronze sculptures sited in The West Garden at the house, both in the woodland areas and in the more formal gardens plus one large fibreglass piece, "Large Reclining Figure" (1984) situated on the lawn in front of the old palace.
Moore, who died in 1986, said that "Sculpture is an art of the open air . . . I would rather have a piece of my sculpture put in a landscape, almost any landscape, than in or on the most beautiful building in the world".
Richard Calvocoressi, the director of The Henry Moore Foundation, said the grounds of Hatfield House were the perfect setting for the sculptor's work because it was a constantly changing environment.
"There's a relationship between the forms in his sculptures and forms in nature because they're nearly all inspired by natural forms," he said.
"The pieces will change from day to day as well. If you come back another day, the light may be different, or it may be raining... so it's a constantly evolving experience."
The exhibition will be open to the public from 23 April - 30 September 2011.