Aylesbury man's life term for mother's machete murder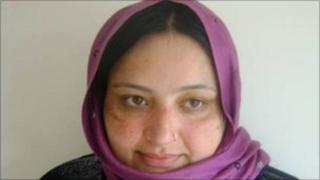 A man who murdered his mother at her home in Buckinghamshire has been jailed for life to serve a minimum of 20 years.
Usman Shahzad, 21, of Havelock Street, Aylesbury, killed Assia Shahzad at her home in Wendover Road, Aylesbury, in October 2010.
He had pleaded guilty at the start of his trial at Aylesbury Crown Court.
He attacked his 40-year-old mother with a machete in what the judge called a premeditated cold-blooded attack.
The court had heard that there had been bad feeling between Ms Shahzad and her son, which may have been caused by the fact she had found a new husband in Pakistan.
Ms Shahzad was chased through two bedroom into an en-suite bathroom, where she was attacked with a machete and shower pole.