Hertfordshire's county flower is disappearing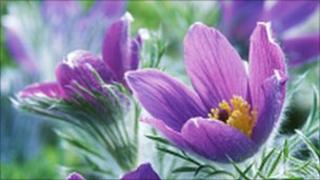 Hertfordshire's county flower has vanished from 85% of the sites around the UK where it was once found.
The number of sites where the bright purple blooms of the pasqueflower is found has fallen from 127 to just 18.
The botanical organisation Plantlife has revealed that it is now only found in great numbers in five places.
Two of these, Barton Hills and Knocking Hoe, are in Bedfordshire and one, Therfield Heath, is in Hertfordshire.
The other two sites are in Cambridgeshire and Gloucestershire.
At Therfield Heath as many as 60,000 plants have been recorded in a good year and the pasqueflower was chosen as Hertfordshire's county flower following Plantlife's 2002 County Flowers campaign, marking the Queen's Golden Jubilee.
However, it is only at these five sites that the bloom still thrives in large numbers and where 99% of the country's Pasqueflowers are found.
Plantlife has said that number of sites has almost halved since the mid 20th Century due to a lack of effective management, particularly an absence of grazing to provide the best habitat conditions for the flower, which needs bare ground to germinate.
'Patchy areas'
Sarah Buckingham, from the Herts and Middlesex Wildlife Trust, said: "The habitat that it likes, which is chalk grassland, has disappeared largely from the UK... mainly because the land has been taken over by agriculture.
"It means that we've just got patchy areas of chalk grassland and these areas have to be grazed by sheep to encourage the plants to grow, so it's quite a specific habitat that the plant needs."
The five spots where the flower is found in great numbers are all national nature reserves or sites of special scientific interest (SSSIs) where management of the sites such as the introduction of winter sheep grazing has helped the species do well.
Ms Buckingham also revealed that the Herts and Middlesex Wildlife Trust are looking to "create a living landscape of chalk grassland" in order to promote further growth.
She said: "There's a chalk ridge that runs south west from Royston, through Hitchin and Luton right down to Tring and if we can work to protect the chalk grassland that remains in those areas we could hopefully see a resurgance in the pasqueflower."