Go-ahead for Luton youth centre project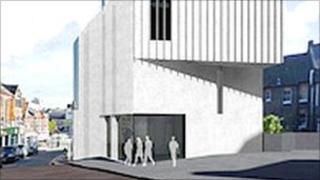 The final go-ahead has been given for a youth centre project in Luton after a £4.7m grant was approved by the Department for Education.
The TOKKO centre will be a five-storey building on Gordon Street on the site of a former advice centre, which is being demolished.
It aims to provide a one-stop information point for young people.
The centre's facilities will include a climbing wall, performance space, training rooms and an IT area.
'Taking off'
It will also include a fashion studio and a rooftop Zen garden.
Work on the site could begin by July 2011.
Everton Blake, executive director of Voluntary Action Luton said: "TOKKO is really taking off and the young people of Luton will finally get a facility that not only meets their needs but one which they will also have a hand in managing."
A council spokesperson said: "TOKKO will be a much-needed youth facility for our young people and one which they all deserve, and we are pleased that funding support is continuing."