'Cash for crash' gang jailed for insurance fraud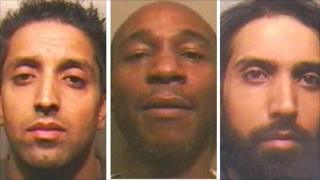 Three members of a Luton gang involved in a £5.3m "cash for crash" insurance scam have been jailed.
The gang engineered crashes involving unsuspecting motorists as well as making bogus injury insurance claims.
Kamsan Mahmood, Peter Charlery and Istafa Hussain, all of Bedfordshire, were found guilty at Luton Crown Court of conspiracy to defraud on 14 April.
On Wednesday, Mahmood was jailed five years, Hussain for four-and-a-half and Charlery for 18 months.
Mahmood, 42, and Charlery, 45, both of Long Meadow Farm, Chalton, and Hussain, 35, of Lincoln Road, Luton, were sentenced at Luton Crown Court.
'Web of deceit'
Irtiza Fazal, 40, of Lincoln Road, was acquitted by the jury after a seven-week trial earlier this month.
Police came across the insurance fraud while they were investigating organised criminal activity in the town.
With the Insurance Fraud Bureau, they uncovered a "web of deceit" involving people from professions including the legal, medical and motor trade.
During the police operation, homes in Bedfordshire, Hertfordshire and Berkshire were raided.
The car insurance fraud centred on an accident management company based in Leagrave Road in Luton.
The gang also used land at a farm to the north of the town to store the damaged vehicles.
The police investigation saw 39 defendants appear at crown court in separate hearings over three years.