Milton Keynes walk celebrates royal wedding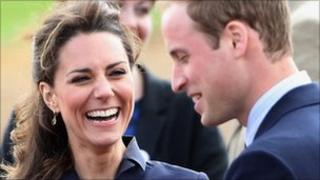 People in Milton Keynes have been urged to dress up in wedding outfits to celebrate the marriage of Prince William and Kate Middleton.
Brides, bridesmaids, grooms, best men and general guests will all be welcome at the Wedding Dress Walk being held in Campbell Park on Friday.
The event is part of the Milton Keynes Parks Trust's Walking Festival, which runs over the bank holiday weekend.
Event co-ordinator Julie Dawes said that it would be a "fabulous sight".
"We decided when we were going to hold the Walking Festival before Kate and William decided that they were going to have their wedding on 29th April. [Then when they did] we thought let's incorporate it and celebrate it," Ms Dawes said.
"Because it starts at 2pm, if you want to watch the wedding you can watch it in the morning and come for a lovely walk in the afternoon.
"Anyone in wedding attire is welcome .... but we are asking people to wear suitable footwear because it is a four-mile walk and stilettos wouldn't be suitable around Campbell Park."
Singles walk
Now in its second year, the Walking Festival, organised by The Parks Trust, will offer 23 different walks suitable for all ages over the four days.
All of the walks will help people discover more about the local area while the specialist walks, such as the Singles Walk, Dawn Chorus Walk or Roman History Walk will help people learn new skills or meet new people.
Most of the walks are being led by volunteers, either from Milton Keynes Ramblers or Reactivate MK which is a project to get people active.
"It's really important to get people walking because it can be quite gentle exercise," added Ms Dawes.
"We've got some wonderful parks in Milton Keynes and it's a great way to see some diffferent areas that you might not have seen before."
Most of the walks are free, but a £3 fee is payable for specialist walks.
Places on each walk are limited and must be reserved in advance.