Bletchley Park commemorates Enigma codebooks capture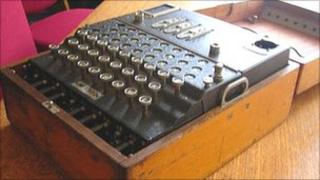 An exhibition to commemorate the 70th anniversary of the capture of a German wartime Enigma coding machine and codebooks has opened.
The items were taken from U-boat 110 in the North Atlantic on 9 May 1941 after its capture by the Royal Navy.
The move helped Britain crack the German's Enigma code, which was used for top secret military messages.
The exhibition at Bletchley Park is the first time all known photos of the event have been shown together.
The display details the first-hand account of 20-year-old 2nd Lieutenant David Balme, who climbed into the U-boat to seize the documents, and also covers the story from the German side as some of the U-boat survivors have told their stories.
War shortened
German forces used the Enigma machine throughout the war to send highly coded military commands and other top secret messages.
Alan Turing and his team of codebreakers were at first unable to break the code and at the beginning of 1941 were crying out for codebooks to be captured.
It is believed that cracking the Enigma code may have shortened the war by as much as two years.
"More or less everything was retrieved in the U-110 capture including the machine itself," said historian Hugh Sebag-Montefiore, author of Enigma, The Battle for the Code.
"So it was an amazing capture, so amazing that King George VI, when giving decorations after the capture had taken place, said it was the most important event in the war at sea."
The exhibition opens on 9 May 2011 and will run for the foreseeable future.