Milton Keynes Theatre to stage Top Hat world premiere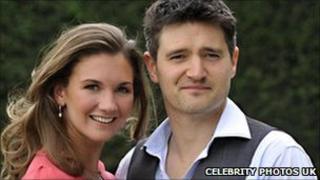 Milton Keynes Theatre is to stage its first world premiere with a performance of Top Hat.
The musical has been brought to the stage 76 years after its movie release and will begin its tour of UK theatres in Milton Keynes.
The 1,400-seat auditorium has yet to be the first to stage a major new production.
Top Hat producer Kenny Wax said it was an ideal venue to start the 17-week tour.
"It's a fantastic facility here, a very modern theatre," he said.
"We'll probably have nine 40-foot articulated lorries that will deliver the set and because it's a new theatre, you've not got a crew who've been here for 50 years bored out of their minds.
'Fantastic business'
"You've got a really keen hungry crew for whom something like this is a real challenge.
"Since it opened in 1999, Milton Keynes Theatre has just done fantastic business so what better place to start it."
Nominated for four Academy Awards, Top Hat is the most successful of the nine films that Fred Astaire and Ginger Rogers made together.
The stage version is based on the RKO motion picture and adapted by Matthew White and Howard Jacques.
The 2008 Strictly Come Dancing winner Tom Chambers and Olivier-award nominated actress Summer Strallen will take the lead roles of Jerry Tavers and Dale Tremont.
Performed by a cast of 31 and accompanied by a live band, the musical comedy will include Irving Berlin's Cheek to Cheek and Top Hat, White Tie and Tails.
VIP performance
A further 10 numbers from Berlin's back catalogue have been incorporated, including Let's Face the Music and Dance.
Mr Wax revealed that Milton Keynes audiences should look out for a special VIP performance of the show on the first Saturday night.
"We wanted to make one night in Milton Keynes like a big Hollywood opening," he said.
"Tails and tiaras, black tie and gowns.
"Walk up the red carpet, have your photo taken, sip a glass of champagne and make it a night to remember."