Luton and Milton Keynes make bids for city status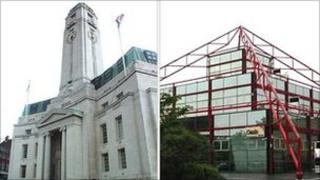 Luton and Milton Keynes are both submitting their bids for city status this week.
The honorary title will be granted to just one town as part of The Queen's Diamond Jubilee celebrations next year.
Both are keen to receive the award - believing it will help raise their profile and provide significant opportunities for their town.
The winning bid is expected to be announced in February 2012.
'Build on achievements'
Luton's bid has been organised by the Love Luton campaign.
Campaigners aim to change the way that Luton is often portrayed and focus instead on the town's achievements.
With more than £4bn of government funding already invested in the town, Luton's regeneration includes the introduction of a new business park, a facelift for its main square and the planned introduction of a new Translink transport system.
Love Luton chairman Glynn Jones said becoming a city would take the town to the next stage of its transformation.
"City status would enable Luton to look to the future, building on its achievements to the benefit of all Lutonians," said Mr Jones.
"More importantly, though, it would provide the public recognition to boost confidence among Lutonians, support them to realise their ambitions and cement the ongoing transformation of Luton for many years to come."
Third time lucky
Milton Keynes has applied for city status on two previous occasions.
Campaigners hope it will be third time lucky for the town.
Councillor Sam Crooks, who is in charge of the Milton Keynes application, said: "This time we decided to do things differently.
"We didn't want the great and the good saying the usual things about Milton Keynes, we wanted our bid to be about the people who live here," said Mr Crooks.
"Previous bids did perhaps focus too much on the chief executives of local companies saying what a good place this was to do business.
"It's all about the Milton Keynes buzz and that's what we wanted to say in our bid," he said.
Other towns competing for city status include Middlesbrough, Medway, Reading, Bolton, Swindon, Chelmsford, Stockport, Perth, Gateshead, Ballymena, Guildford, Southend-on-sea, Ipswich, Wrexham, Croydon and St Austell.