Christine Gibson wins David Cameron's Big Society Award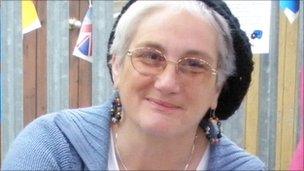 A woman from Bedford has become the first individual winner of the Prime Minister's Big Society Award.
Christine Gibson was awarded the accolade that previously had only been awarded to organisations.
Ms Gibson, who lives in the village of Clapham, is also the first winner from the Eastern region.
She gained the support of local people to turn unused land in Bents Close into a garden.
It is now a place where residents can relax, take children to play, meet other residents and hold social events.
On its website, The Big Society government project states its aim is "about moving power away from central government and giving it to local communities and individuals".
A winner is announced each week, to recognise those who are demonstrating this in their work or activities.
Ms Gibson encouraged her neighbours to get involved in the project, from deciding how they would like to use the land to designing the new space themselves and volunteering to plant the garden.
She also gained the support of her housing association, the Bedfordshire Pilgrims Housing Association (BPHA) and Bedford Borough Council to secure the necessary funding.
Receiving the award, Christine Gibson said she was passionate about her community and just wanted to create an area that people wanted to visit.
"The garden has given us a lovely area in which to socialise, as proven by our recent Royal Wedding Day community party," she said.
"We all feel so much prouder of where we live as a result."
Ms Gibson also explained how she had gained a great deal of satisfaction from helping others.
"We have lost that in society," she said.
"People don't care about anybody else. It's [really about] going the extra mile and caring about everyone, not just yourself."
Congratulating Ms Gibson, Prime Minister David Cameron explained how her achievement was twofold.
"Not only has she given up her own time to make a real difference to her neighbourhood," he said.
"But, perhaps even more importantly, she has shown how the energy and drive of just one person can inspire, motivate and empower many others to come together and build a stronger community."
Jim Playle, Community Development Officer at BPHA, who nominated Ms Gibson said: "She is a real inspiration and an amazing community champion."
Related Internet Links
The BBC is not responsible for the content of external sites.