Milton Keynes shootings: Second teenager dies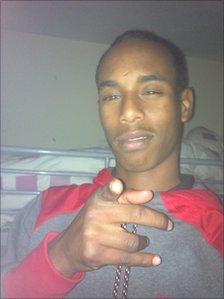 Two teenagers have been shot dead in an alleyway in Milton Keynes.
Mohamed Abdi Farah, 19, of Birmingham, died at the scene on Fishermead Boulevard and Amin Ahmed Ismail, 18, from London died in hospital.
The men who are originally from Somalia and had been in Milton Keynes for some time, both suffered gunshot wounds to the head.
Thames Valley Police said both men were known to them for minor offences but talk of gang violence was "overstated".
A post-mortem examination is being carried out on Mr Farah.
The victims were friends, but it is not known if they knew their killer.
Part of the estate has been sealed off while investigations are carried out.
'Rumours and speculation'
Det Supt Rob Mason said: "We are obviously still at a very early stage of this investigation.
"I realise there is a lot of concern in the community as well as a lot of speculation about the reasons behind this incident.
"We are still trying to establish the facts and cannot be drawn on rumours and speculation.
"We have already spoken to leaders of the Somali community. We are anxious to secure the assistance of both the Somali community and the general community of Fishermead and the wider community of Milton Keynes.
"We have had an excellent response from a number of people who have come forward to inform us of what they have heard and seen.
"The investigation is progressing at a pace."
Thames Valley Police has released two videos on YouTube to appeal for witnesses, one in Somali and one in English.
Crimestoppers is offering up to £5,000 reward for information leading to the arrest and conviction of those responsible for the shooting.
Related Internet Links
The BBC is not responsible for the content of external sites.