Dead Red Cross worker Angela Hoyt 'was being harassed'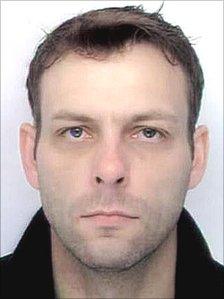 A Red Cross worker found dead at her home in Hertfordshire had days earlier complained to police about being harassed, it has been revealed.
Angela Hoyt, 34, was found at Glebeland in Hatfield, at 1730 BST on Tuesday.
Police are now searching for Martin Collett, 35, her former boyfriend in connection with the death.
The Independent Police Complaints Commission (IPCC) has begun an inquiry into Hertfordshire Police's response to Ms Hoyt's complaint.
IPCC commissioner Sarah Green said: "The IPCC is independently investigating Hertfordshire Police's response to a report of harassment made at Hatfield Police Station on the afternoon of 20 May 2011.
"The woman who made the allegation, Angela Hoyt, was subsequently murdered and there is an ongoing police operation to trace her former partner.
"Therefore at this stage we will not be issuing any further information, and I would encourage any members of the public who can help the police find him to contact them immediately."
About 30 specialist officers scoured the grounds of Hatfield House in Hertfordshire on Friday after receiving information about a man seen in the area.
It has also emerged that Mr Collett was a former briefing manager for former Labour home secretaries David Blunkett and Charles Clarke.
Ms Hoyt worked as a junior member of the Home Office media team at around the same time Mr Collett was employed.
A Home Office spokesman said: "They both did work in the Home Office."
Ms Hoyt is believed to have died some time between 22 and 24 May.
Det Ch Insp Mark Ross, of the Bedfordshire and Hertfordshire major crime unit, said: "It is vitally important we trace Martin Collett as soon as possible."
Ms Hoyt's family have paid tribute to the "very ambitious and driven girl".
"She had a passion for human rights and wanted to use her work to help improve the lives of those less fortunate.
"She had strong opinions and convictions."
Ms Hoyt was born in Windsor in Ontario, Canada, and moved to the UK in 1999.
She had recently returned from a three-month role in Pakistan as part of her work with the Red Cross.
Officers have not released any further details about how Ms Hoyt died.
Related Internet Links
The BBC is not responsible for the content of external sites.