Giant puppets to take part in Albantide Pilgrimage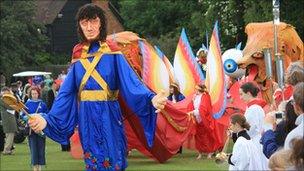 Thousands are expected to gather in Verulamium Park, St Albans, on 18 June for the annual Albantide Pilgrimage.
Giant puppets will tell the story of Hertfordshire's Saint Alban, who lived in Roman Verulamium over 1700 years ago.
The pageant will include Roman chariots and local children dressed as roses, soldiers, angels and monks.
Speaking ahead of the event, Canon Kevin Walton said: "This is a wonderful day out and a truly unique event.
"We are looking forward to welcoming people from around the country and abroad. The combination of celebration, drama and family fun is not to be missed."
Saint Alban gave shelter to a Christian priest fleeing persecution by the Romans.
Moved by the priest's faith, Alban became a Christian, and the two men swapped cloaks, enabling the priest to escape.
Alban was arrested instead, brought to trial and beheaded on the hill where St Albans Cathedral now stands.
The Dean of St Albans, the Very Reverend Jeffrey John, said: "Saint Alban, was a man of tremendous courage who stood up for truth and fairness and paid the price.
"We will be re-enacting his story in a fantastic pageant, and as well as inspiring and moving worship, there will be lots of outside attractions and fun events for the whole family."
Visitors to St Albans can enjoy the procession, services at the Cathedral, free Cathedral tours and fun and games at the Roman Quest.
The Alban Pilgrimage starts at 10.30am in Roman Verulamium, St Albans.
Related Internet Links
The BBC is not responsible for the content of external sites.