St Albans in Lord Mayor bid for Queen's Jubilee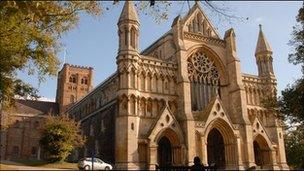 St Albans City Council has submitted an application to create a Lord Mayor for the city.
The bid is part of the Queen's Diamond Jubilee celebrations, when one town or city will be granted the rarely awarded position of Lord Mayor.
St Albans' bid focuses on the city's history and rich heritage from more than 2,000 years of occupation.
The last civic honours competition was held in 2002 when Exeter was awarded a Lord Mayoralty.
Daniel Goodwin, chief executive of St Albans City and District Council said winning the award would be a mark of honour for St Albans.
"It would raise people's awareness of the city and district as a place of great civic pride and also recognise the contribution of the people of St Albans to the country as a whole," said Mr Goodwin.
"St Albans has a really distinguished history, spanning from 2,000 years ago when it was the third largest town in Roman Britain.
"We're also the only city in the county of Hertfordshire," he said.
The Dean of St Albans Abbey, the Very Reverend Jeffrey John, is supporting the bid and said St Albans was a uniquely important religious and spiritual centre.
"St Albans owes its name to Alban, the first known Christian martyr in the British Isles.
"The cathedral is built over his shrine, and is the site of the longest continuous tradition of Christian worship in the country, being at least 300 years older than Canterbury," said Mr John.
"I consider the close links between the cathedral and abbey church and the community to be a distinctive and highly beneficial aspect of life in St Albans," he said.
A decision is set to be announced in the first half of 2012.
Related Internet Links
The BBC is not responsible for the content of external sites.